By Lucy Komisar
It's agitprop, and it's powerful. In Athol Fugard's tradition of very political plays, this theatrical metaphor about South African racism is first didactic, but then it takes off so that you think, well, yes, this is a rather obvious political statement, but it's also a dramatic truth.
The play is set in 1984 and was presented in 1989 in Johannesburg and New York, on the cusp of the political change that ended apartheid. The playwright is white.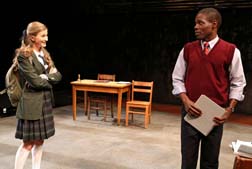 In a classroom in a small Eastern Cape Karoo town, Mr. M (a very hearty James A. Williams), an idealistic teacher in a black high school (Mr. M is an affectionate nickname), seeks to inspire his gifted student Thami (a passionate and powerful Stephen Tyrone Williams). One device is to organize a debate with a local white school whose students are "British" (ie relatively liberal), not Afrikaners.
The device is rather obvious. Male vs female roles. Thami gives a speech promoting the traditional role of women. The white student, Isabel Dyson (Allie Gallerani, bright and sensitive), ripostes with a feminist defense. Her challenge, ironically, is that this is an argument of primitive Africa, an argument of difference that could be used against any other different group. It's an argument for racism.
Both young people are 18. The black school is in "The Location" on the edge of town. Even the lack of a name reflects a refusal to recognize that real people exist in a real place. We learn that there is more separating the two students than a few miles. Isabel has no experience of speaking to anyone except servants and employees. Yet, the youths get to be friends. Then politics intervenes. This is no easy good guys, bad guys play.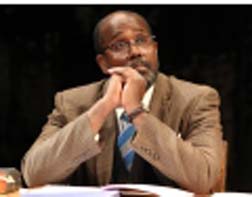 The black teacher, 57, a bachelor devoted only to his students, decries young minds that can't develop, "victims of country's lunacy." But he is also concerned about rumblings among youths in the village. He represents good but conservative blacks. (A reality of the time, but also someone whites could like and understand.) He arranges for the two students to participate in a contest on English literature that will again challenge prejudices about the intelligence of blacks. The dialogue – guessing and reciting famous poems of Byron and others — demonstrates the superior intelligence of both youths. Charming if corny.
The first act seems preachy. Then director Ruben Santiago-Hudson revves up the action. The highlight of the play, a passionate speech by Thami, establishes the political focus. The comrades are organizing a stay-out (a strike). Mr. M argues against violence. He does not stand with the militants. The comrades threaten the teacher. Fugard's message is not only how the system comes between black and white, but, perhaps talking to his white audiences, how "white laws make black people so desperate they turn into mobs."
This is powerful in its historical context, amazing to think of seeing this in Joburg, and important as part of the work of Fugard, the only internationally known white South African anti-apartheid playwright.
My Children! My Africa! Written by Athol Fugard; directed by Ruben Santiago-Hudson. Signature Theatre, 480 West 42nd Street, New York City. 212-244-7529. Signature has a (revolutionary) $25 ticket price. Opened May 24, 2012; closes June 17, 2012.