By Lucy Komisar
Delightfully clever and funny, the musical lark "Sister Act,"   based on a 1992 film, is feminist as well. It revolves around the tribulations of Deloris Van Cartier (a smashing Patina Miller when I saw it, now Raven-Symoné), who does a raunchy, gyrating "Take Me to Heaven" number in a nightclub run by her hoodlum boyfriend Curtis Jackson (Kingsley Leggs). But after she decides to leave him, she sees him shoot a suspected informer. Fearful of what he might do to her, she races away to the police. Indeed, the gangster orders his men to find and kill her. But the cop (Chester Gregory), who turns out to be an old school chum, hides her out at a convent.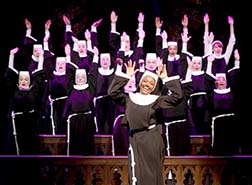 This gives Deloris – disguised as a nun — a chance to use her talents to do good works. The nuns' choir is terribly off-key. And the convent is in big financial trouble. So under Deloris's tutelage, the choir gets with it, turning into a rock soul group that gives a whole new meaning to the "Take Me to Heaven" number. Director Jerry Zaks pulls out all the stops in one vivid production number after another.
News spreads of the fabulous troop (who move into dayglo glitter costumes by Lez Brotherston), and people come to services and leave generous donations. They are greeted with: "Welcome to the last remaining Christians in the Tri-state area."
Even two bachelors who specialize in antiques and want to buy the convent building – "Gothic!" they exclaim when they see it — decide to support the nuns. But the bad guys are trying to get Deloris, and there are some close calls.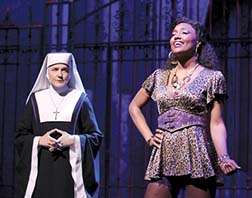 Between the numbers are funny nun jokes and religious satire. The Mother Superior (Victoria Clark, with a stunning soprano) declares, "You took a vow of charity." Response: I take it back. Deloris is not happy with her habit, and the Mother Superior disapproves of her cabaret attire.
Gregory is good as the jerky cop who sits on his desk and falls down. And Marla Mindelle is terrific as the postulant Mary Robert who discovers what she's been missing as a woman and finds herself.
I loved the funny "It's Good to be a Nun" number. (Lyrics by Glenn Slater). And soul music and gospel are obviously just what you need to "praise the Lord." (Music by Alan Menken.) Indeed, the musical numbers, with choreography by Anthony Van Laast, carry the show, carry it on wings. Maybe not quite to heaven, but close enough.
Sister Act. Book by Cheri and Bill Steinkellner and Douglas Carter Beane; lyrics by Glenn Slater; music by Alan Menken; directed by Jerry Zaks. Broadway Theatre, 1681 Broadway at 53rd Street, New York, NY. 212-239-6200. Opened April 20, 2011, closes Aug 26, 2012.