By Lucy Komisar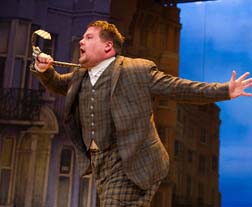 He's silly, he's clever, he's outrageous, and James Corden dominates the stage as the sometimes bumbling Brit who ends up working for a criminal and a thug, neither of whom must meet each other or know of his connection to them. And neither of whom are quite what they seem. One, Roscoe Crabb, the gumshoe, turns out to be his sister (Jemima Rooper), as Roscoe has been murdered by the other, Stanley Stubbers (Oliver Chris).
Set in 1960s Brighton, the plot of this farce has enough twists and turns that it could – and does – literally trip the characters up. But pratfalls are a necessary part of Richard Bean's delightfully modern spin on the 18th-century Italian Commedia dell'Arte masterwork, "The Servant of Two Masters" by Carlo Goldoni, which took place in another seaside town, Venice.
In that time, plays were peopled by archetypes, including stupid masters and wily servants. Their goings-on and dialogue were often subtle commentary on the nature of the ruling classes. A few centuries later, you get lines such as a prediction that in the future "you'll see a more fair and just society. A feminine voice of compassion for the poor. In 20 years, you'll see a woman in 10 Downing Street." Hello, Maggie Thatcher!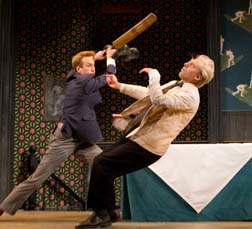 As in theater through the ages, there is cross-dressing to hide a character's gender and love triangles, or intersecting triangles. And in this case the running gag of Corden's character Frances Henshall's fixation on getting as much as he can to eat. Servants a few hundred years ago were not magnanimously fed. (A pub that does food is a running joke.) A hotel dinner service in which everything goes wrong is a hoot. And Tom Edden is brilliant as Alfie, the old waiter, with a twisted face that reminds one of a B-movie monster.
The play is directed with roller-coaster tempo by Nicholas Hytner.
By the way, don't be a guy in the front row unless you want to be singled out for audience participation. But do be in any of the other rows!
"One Man, Two Guvnors." Written by Richard Bean; directed by Nicholas Hytner. National Theatre of Great Britain at The Music Box, 239 West 45th Street, New York City. 212-239-6200. Opened April 18, 2012; closes Sept 2, 2012.