By Lucy Komisar
If Clifford Odets had written a musical for the Group Theater, it would have been "Newsies." The author of the militant "Waiting for Lefty," with its moving chorus of "Strike, Strike!," lives in spirit in Harvey Fierstein's play about young exploited workers who rebel against the corporate boss.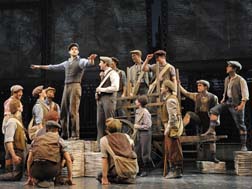 At a time when trade unions are beaten down by the big-money people who run our country, it is thrilling to see a play that celebrates the struggle of workers to get decent pay. And especially a reminder of how corporate magnates would and did exploit children if they could. So, cheers to Fierstein for writing the book of this play. At the performance I attended, the enthusiastic reaction of the middle class audience (who could afford the tickets) shows that his message is well received.
It's 1899. The boys sell papers on the streets. Though they get just pennies per sale, Joseph Pulitzer (John Dossett), the mega-publisher who owns "The World," wants to cut their pay to take more profits. The youths know about squeezes. One sings that "the streets sucked the life out of my old man."
They protest, they organize a union, "the Newsies of Lower Manhattan." They strike, they sing, "We won't let those bastards beat us." And, "We're no slave to the journal. We've a union now."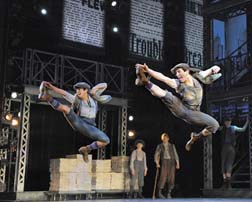 The music is traditional rhythmic Broadway (by tunesmith Alan Menken); the lyrics (by Jack Feldman) are sharp and pithy. "I'll make up a headline and I'll say anything I hafta." "How about a crooked politician? That ain't news no more. The songs sometimes echoed the spirit of "West Side Story."
The Newsies are joyous, energetic, dancing high jumps, splits, turns and kicks. The spirited, winged choreography is by Christopher Gattelli.
But what's memorable is the story. "We've been down too long," a feisty kid says to a burly guard at "The World." There is revolutionary spirit and drama. Another says, "Tell those with power safe in their tower we will not obey." When scabs come, they declare, "If we stand together, we change the whole scene." And "Ain't no crime in being poor." They ask for decent conditions for "all kids in every factory, sweatshop, slaughter-house." It was of course the period of oppressive child labor. They are dressed in grungy browns and grays.  There's local color: The youths meet at Jacob's Deli on the Lower East Side.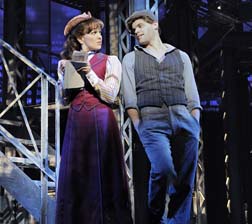 Pulitzer fumes that Franklin D. Roosevelt, who is New York's governor, is a socialist. He hires thugs to beat the kids up. Later, cops come and swing their sticks. They seize the cripple, "Crutchie" (Andrew Keenan-Bolger), and carry him to a "refuge," their word for a detention center.
Jack Kelly (Jeremy Jordan), the 17-year-old gutsy union leader, becomes depressed and wants to escape, to go to Santa Fe, his vision of heaven. Kelly is typically too miked but has a fine kid's voice and is a good musical actor. For the sake of Broadway, Fierstein adds a pretty young reporter, Katherine (Kara Lindsay), who works for the New York Sun. Dressed in bright pink with a honey smooth alto, she is a charmer. She wants to bust out of the social pages and tell the story of these among the "thousands of children exploited, invisible." Of course, she and Jack become a match.
When you finally get to "One for all and all for one," and "Strike, strike!," the audience doesn't echo the strike call as Odets' fans did, but they cheer. The Manhattan boys get support from the other boroughs: "We are boys from the beach of Brighton. Brooklyn's here!" Then Pulitzer makes Jack a deal. And Katherine turns out to have upper class connections. Surprises are in store.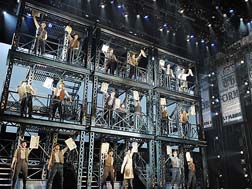 The set of a giant metal construction suggests that this is not just about newsies, but about all workers.  The strikers sing, "The world will know…. Either they gives us our rights or we give them a war… We've been down too long….Pulizter may own ˜The World' but he don't own us." The play has the emotional power of "Les Miz" about the time leading to the French revolution. It raises questions about when Americans will revolt against entrenched power here.
"Newsies The Musical." Book by Harvey Fierstein, music by Alan Menken, lyrics by Jack Feldman; directed by Jeff Calhoun. Based on a 1992 film written by Bob Tzudiker and Noni White. Nederlander Theatre, 208 West 41st Street, New York City. 866-870-2717. Opened March 15, 2012; closes Jan 6, 2013.