By Lucy Komisar
It's always good timing for a play about ruthlessness and skullduggery in politics, but none better than this year when the Romney campaign has raised it to outsized proportions. The essence of Gore Vidal's riveting political satire, which premiered in March 1960, is the corruption of the system. Vidal ran for Congress in Westchester County, NY, (alas, he didn't win), so he got closer to politics than other playwrights. He also nails the mainstream press for its gullibility and stupidity.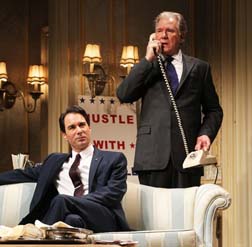 It's a summer nominating convention; based on the candidates, it must be the Democrats. They are in elegant hotel rooms with cream and gold cornices, French furniture, little lamps on the walls. The theater is festooned with state delegation signs and American flags as you might see in any political convention (set by Derek McLane). The direction by Michael Wilson makes reality sparkle. The cast is excellent.
One candidate for president, Secretary William Russell (John Larroquette), smart and honorable, a northern intellectual, is an easy stand-in for Adlai Stevenson more than for John F. Kennedy, both of whom sought the 1960 nomination. Russell has inherited money. Kennedy and Stevenson, both upper class, both went to the private boys' school, Choate.
The other, Sen. Joseph Cantwell (Eric McCormack), a southerner, would sell out anyone to get ahead. That means he would lie, cheat and use the most available smear. He is one of the mediocre boys. He follows the polls. If people are conservative he'll be conservative, if people are radical…
He is a darling of the conservatives, promoting himself as a man of the people, "someone like me from a poor family." He promises that "by cutting government spending we can eliminate the personal income tax and [by the way] increase military spending." Plus ҁa change.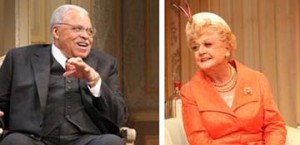 Then there's the arbiter, the former president Arthur Hockstader (the terrifically cool, avuncular James Earl Jones) who conjures up Truman. He is not corrupt himself; just wants to protect the party.
Mrs. Sue-Ellen Gamade (the ingratiating Angela Lansbury), chairman of the women's division, is a southern "good-ole-girl" who just also wants what's good for the party, ie to win. "Don't talk over their heads," she advises. Play to the electorate's stupidity.
Who will play dirty and who will in the end maintain his integrity? Harkening back to Joseph McCarthy of the early 50s, Cantwell, on a Senate committee, has declared that the U.S. is secretly governed by a mafia run by the "communist conspiracy."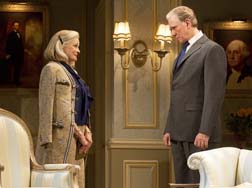 Vidal spices the drama with the candidates' relations with their wives.
Alice Russell (a tough, steady Candice Bergen) lives apart from her husband, but agrees to attend the convention "en spouse." She quips, "Politics makes strange bedfellows." But as part of the deal, she demands that if he wins, no house on K Street, no girls in the White House." Russell asks, "How can you get girls into the White House?" This was before the Kennedy election, so it's curious that Vidal knew how this worked. Who was he thinking about? Kennedy as Senator?
You don't get a clue about why the Russells' marriage didn't work. Her independence, perhaps? She is on a birth control committee in New York. "But you can't," he says. "She: "Can't offend anyone, can't please anyone."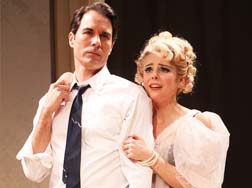 Mabel Cantwell (Kerry Butler) is a tacky, ditsy lady with a deep southern accent who hangs all over her spouse and, in Lady Macbeth fashion, urges him on. One can't imagine her having an original idea in her (pretty little) head. But she knows just how to get to Cantwell's nether parts.
And don't forget the useless press. A network reporter interviews Joe Cantwell's mother for the usual anodyne waste of airtime.
The plot thickens when an informant (Jefferson Mays) tells a story about a college homosexual scandal that involves Cantwell. What really happened? In any event, does that matter and will Russell use it?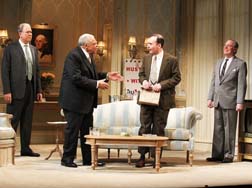 Astonishing how a play written more than fifty years ago holds up. Though now the scandal would have been aired in the press and online, the immorality of many politicians hasn't changed. The production is a brilliant theatrical analysis of seamy American politics.
"Gore Vidal's The Best Man." Written by Gore Vidal; directed by Michael Wilson. Schoenfeld Theatre, 236 West 45th Street, New York City. 212-239-6200. Opening night April 1, 2012; closes Sept 9, 2012.