By Lucy Komisar
Horton Foote's "Blind Date," set in 1928 in the imaginary Harrison, Texas, was written in 1985 and examines the southern marriage mart of the earlier years through the prism of feminism. The first and best of three one-act plays by Foote being presented by Primary Stages, it pits a bright young woman, who likes books and Rudy Vallée songs, against boring gentlemen callers, in this case one who, as a conversation gambit, recites all the books of the Bible in a minute. She (smartly) disappears upstairs.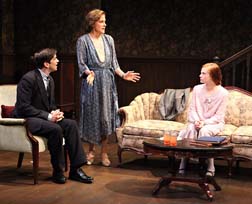 Sarah Nancy (the excellent stolid, grim-faced Andrea Lynn Green) is visiting her aunt Dolores (the inimitable and brilliant Hallie Foote), who feels it her duty to introduce the young lady to eligible men. Dolores managed to get into two college "beauty" pages by using "personality." She advises that women "have to sit back as if fascinated. That's how you entertain young men." However, Sarah Nancy just tells the truth, especially when she's bored. Even worse, she's sarcastic.
When a prospective suitor (Evan Jonigkett) comes to see her, she tries to follow her aunt's list of conversation questions – "what church do you belong to?" and some dumb inquiries about cars and football. But she finally tells him that he looks like a warthog. He doesn't, but the point is made that she doesn't suck up to anyone. We know she's smarter than any of them. Loved it, a delight all the way through!
The plays are directed by Pam MacKinnon, who clearly has her "southern" down pat. There's a darkness, an airless stuffiness in them. They are political statements of people trapped in rigid social and economic cultures.
The second, "The One-Armed Man," also written in '85 (during the Reagan presidency) and set in '28, is harsh and angry about the nasty economic class system. At the top is C.W. Rowe (Jeremy Bobb), in a blue pin-striped vested suit, who runs a cotton gin. The first to feel his humiliating barbs is Pinkey (Devon Abner), the bookkeeper. Rowe gives Pinkey a bill that has come for him, and asks how much he is in debt. $300. But how come you can't manage? he asks. I, says Rowe, belong to/pay to the Chamber of Commerce, Lyons Club, the Baptist Church, where I teach Sunday school, etc…. He cashes out morality. And he asks why Pinkey doesn't grow his own food. Well, Pinkey gets $40 a week and Rowe $125. A lot of "sirs" and bowing from Pinkney. Perfect picture of the arrogant 1% vs the 99%. Though by today's standards, the disparity in incomes is minuscule, would be admired by the left.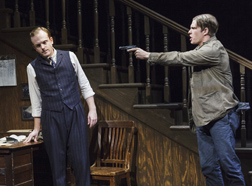 But there's another fellow, McHenry (Alexandre Cendese, with a dark scowl and palpable fury), who has suffered more than low pay. He used to work at the cotton gin but had his arm shattered by the machine. Since he could no longer do his job, Rowe fired him, broke him like the machine destroyed his arm. But the worker returns. He demands his arm back. There's tension. A threat. And a dénouement. To be expected. Perhaps a commentary on the Reagan/Republican philosophy of it's okay to step on workers and Foote's warning of what could follow.
The least satisfying is the last piece, "The Midnight Caller," which takes place in 1952 and was written in 1956, showing understanding years before the new feminism of how society trapped women. Two young ladies living in a boarding house, both stenographers, have their routines up-ended by the advent of Helen Crews (Jenny Dare Paulin), who has finally left home four years after her possessive mother broke up her relationship with a handsome rich fellow she loved.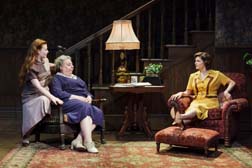 Helen's arrival at the boarding house sets off the prim, pinched-faced Alma Jean (Mary Bacon), a woman in her 30s, who protests the harm to reputation of having Crews at the dwelling, but is tagged as a spinster angry at sexuality or maybe her own failure to get a man. Cutie Spender (sensitively portrayed by Andrea Lynn Green), a boarder in her 20s, is more generous, but seems confused and cries a lot. Jayne Houdyshell as an elderly boarder who taught school all her life muses a lot about gazing at the moon and fireflies. All are lonely.
Ralph Johnston, a new male boarder and the only man in the house, is portrayed by Jeremy Bobb as rather a non-entity. Hard to figure what appeal he has to any of the women aside from his gender. Maybe that's the point. The play's title is an ironic twist on the women's desire to have male "callers," suitors. The midnight caller is Helen's ex-boyfriend (Alexander Cendese), who has become a drunk and stands outside the house at midnight wailing her name.
For all the play says about the dilemma women, perhaps especially southern women, faced even in the fifties, before feminist consciousness, it veers too much to the melodramatic. It's a period southern pot-boiler.
But taken together, the plays provide a vivid picture of a repressive, stultifying society. Coming out on East 59th Street, you take a breath of fresh air.
"Harrison, TX: Three Plays by Horton Foote." Written by Horton Foote; directed by Pam MacKinnon. Primary Stages at 59E59 East Theaters, 59 East 59 Street, New York City. 212-0279-4200. Opened Aug 14, 2012; closes Sept 15, 2012.