By Lucy Komisar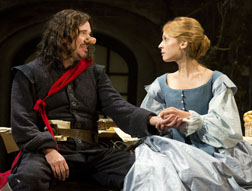 There's a darkness that bakes everything as if it were an old painting of the 1600s, when this play takes place. The set and costumes are mostly dark blacks and browns. Blackened bricks are set above white stone and arches. Jasmine branches bereft of flowers are wrapped around a trellis.
The darkness extends to the soul of Cyrano (Douglas Hodge), a hostile, aggressive French guardsman obsessed and made miserable by his outsized nose. Inside the body that bears that misshapen proboscis, to which he gives many crude, self-lacerating names, lies a passion for his childhood friend, the beautiful Roxane (Clémence Poésy), which he dares not express.
The Compte de Guiche (Patrick Page) is a suitor for Roxane but wants her to marry Valvert (Samuel Roukin), who would obviously be a convenient stand-in. But she falls in love with Christian (Kyle Soller), a handsome but verbally ungifted, even empty-headed young cadet.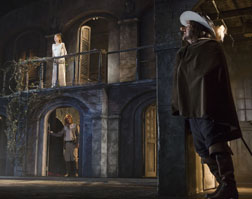 Cyrano tells Christian that they will seduce her jointly. "Alone we don't stand a chance. Together we can get any girl in France." He writes the love poems that Christian sends her. But a dicey moment comes when Roxane and Christian meet and his conversation falls flat. Cyrano saves the day when he hides from view and feeds Christian romantic lines to repeat to Roxane as she stands on her balcony
Cyrano is a dramatic tragic figure, with black pants and doublet, red cape, and a black wide-brimmed hat with a white plume. He is a man of honor, refusing to compromise to get a patron, to write odes to bankers. He is also tough, aggressive, nasty and violent. Hodge is good displaying that part of the man.
The balcony scene should be the most moving moment in the play, when we see the passion of Cyrano's love. He should change his demeanor. For that moment, he should drop the vulgarity, the lack of refinement, the shrieking voice and instead show the soul of a poet. But Hodge never alters his acting style. Cyrano remains suffused with anger, almost spitting out lines of love poetry he should be declaiming with tenderness. One must ascribe Cyrano's one-note depiction to a decision by director Jamie Lloyd.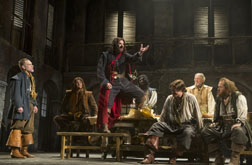 Another curious choice at the end seems to block any spark of connection between Cyrano and Roxane by seating them at opposite ends of the stage.
For the rest of this eminently entertaining production, one is taken by Edmond Rostand's invigorating poetics, like verbal puzzles for which one waits for the punch line. The action is lively, even tumultuous, as in the bakery when workers throw up flour to prepare bread and in the cheering when the swashbuckling Cyrano arrives having routed a bunch of thugs. "We're the Gascogne regiment" is a delightful, energizing song number. Lloyd also presents a very realistic smoky, noisy, bloody battle scene. And Soutra Gilmour's sets and costumes are gorgeous. Rostand's witty poetry alone makes this worth a visit.
"Cyrano de Bergerac." Written by Edmond Rostand; translated by Ranjit Bolt; directed by Jamie Lloyd. Roundabout Theatre Company at American Airlines Theatre, 227 West 42nd Street, New York City. 212-719-1300. Opened Oct 11, 2012; closes Nov 25, 2012. 11/19/12.