By Lucy Komisar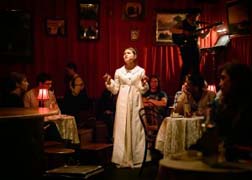 We are at a glitzy Moscow cabaret, noshing on pirogi and black bread set on small round lacey cloth-covered tables and quaffing freely flowing vodka. The walls are hung with red drapes, and chandeliers dip from the ceiling. All around us, on risers along the walls and through the spaces between tables, actors in costumes of the early 19th-century Russian military and low nobility enact the drama of love and betrayal between Natasha (Phillipa Soo) and Anatole (Lucas Steele) from Tolstoy's "War and Peace."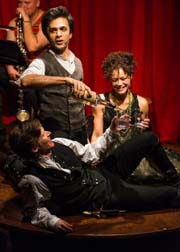 In the meantime, other relationships enrich the tale. Natasha must meet Andrey's father (Blake DeLong) and sister. The former turns out to be weird and nasty.
Anatole goes out drinking with his friend Dolokhov (Nick Choksi) and the wealthy aristocrat Pierre (Malloy). When they meet Hél¨ne (Amber Gray), who is Pierre's wife and Anatole's sister, Pierre finds Dolokhov's attitude too familiar and challenges him to a duel.
Later, Anatole, who is married, seduces the white-gowned, white-gloved Natasha at a ball. And that's only the first act! The plot gets darker as the production shimmers.  The singers have full, rich voices, the acting is smooth and affecting. Lucas Steele is quite the leading man as Anatole. Deceit and betrayal are in the air. You feel like onlookers at a dissolute, albeit schmaltzy party.
"Natasha, Pierre & the Great Comet of 1812." Written and composed by Dave Malloy; Directed by Rachel Chavkin. Ars Nova, 511 West 54th Street, New York City. 212-352-3101. Opened Oct 16, 2012; closes Nov 17, 2012. 11/16/12