By Lucy Komisar
Wild and wonderful and definitely not only for children, Rick Elice's play imagines what turned a mistreated orphan boy into Peter Pan. Captain Hook and the crocodile are there, too, and we find out how they got the hook and the tick-tock. While you get the history lesson, you will enjoy one of the cleverest, funniest spoofs to come down the pike in years. The direction by Roger Rees and Alex Timbers is inspired.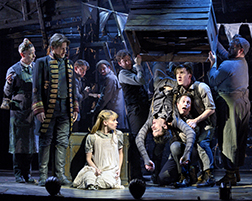 It seems that in 1885 two sailing ships were making for an unknown Asian country. The one captained by the brigand Slank (Matt D'Amico) was transporting Peter (Adam Chanler-Berat), who didn't yet have a name, and some other boys to be servants for the Asian potentate. Another ship was carrying the aristocrat Lord Aster (Karl Kenzler) to deliver a very valuable trunk to the same destination. But that ship is taken over by pirates led by the comically threatening Black Stache (the unforgettable Christian Borle) who is after the trunk, which is full of valuables, including stocks, bonds and unregulated derivatives.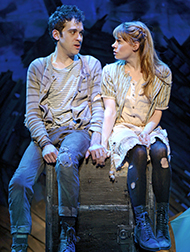 Stash, with a villainous painted-on moustache, says he has no heir apparent but hair apparent. Borle, who had a starring role in Spamalot, recreates the brilliance of his unforgettable comic style and grin.
Aster's daughter Molly (Celia Keenan-Bolger) is on the boys' boat and helps them get decent food. (I don't want to tell you what they had been fed – it's every kid's horror.) Molly is a take-charge self-assertive young lady who is competitive against the boys and in a running joke is repeatedly challenged by Prentiss (Carson Elrod), who wants to be the leader.
At a certain point, Stache discovers that the trunks have been switched on the dock and he is carrying a load of sand. He takes off for the other vessel.
There ensue battles, shipwrecks and myriad adventures. There's a running-in-place fight between two villains wielding weapons of poetry. The action moves from ship decks and holds to a fantastic island (Sets by Donyale Werle.)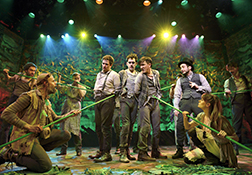 Teddy Bergman is very funny as the Fighting Prawn who heads the Mollusk Islanders. He punctuates his remarks with exclamations like "scampi," "calamari," "lasagna" and "tiramisu."
The music by Wayne Barker is a collection of Hollywood extravaganza, ragtime and Broadway. Much of the dialogue takes place in chorus. My favorite number is the 1940s movie-style dance number where the guys (Molly is the only female in a cast of 12) dance and sing as mermaids with pulchritude created by silvery food steamers and the like. (The costumes by Paloma Young are terrific.)
There are some inside show biz jokes, such as one character claiming, You abused the concept of the theater collective. Smee, a long-faced Cockney (a very good Kevin Del Aguila) declares that the crocodile is chewing the scenery, and Stash describes something as elusive as the melody in a Philip Glass opera. There's also a Les Miz moment when Molly is wheeled out on a high platform.
It's all very witty and nutty. This is a theater classic every bit as much as "Peter Pan" was.
Peter and the Starcatcher. Written by Rick Elice, directed by Roger Rees and Alex Timbers. Based on the novel by Dave Barry and Ridley Pearson. Brooks Atkinson Theatre, 356 West 47th Street, New York City.   212-307-4100. Opened April 15, 2012; closes Jan 20, 2013. (Originally produced by the New York Theatre Workshop March 9 to April 24, 2011.) Transfers to New World Stages, 340 West 50th Street, March 18, 2013. National tour begins August 2013 at the Ellie Caulkins Opera House in Denver.  12/22/12.