By Lucy Komisar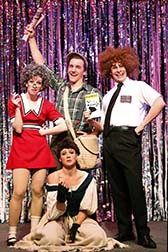 Known for delectable parody, this version of "Forbidden Broadway" starts out as a parody of itself. The talented cast of four belts out, "Forbidden Broadway is alive and kicking. Like Jesus and Judy Garland, we're resurrected again." Signs declare "Bring back Mandy and Ricky Martin!"
I for one am glad they're back. Along with performers Natalie Charlé Ellis, Scott Richard Foster, Jenny Lee Stern and Marcus Stevens, who are a charming, clever and tuneful ensemble.
Gerard Alessandrini started his parodies of Broadway musicals in 1982, and they've been going strong, with a brief intermission that this show happily ends. The lyrics are witty, the tunes are ripped off, and the costumes (by Philip Heckman) are the over-the-top variety that uses a plunger to represent the trunk of a "Lion King" elephant.   Alessandrini shares the directing chores with Phillip George. It's a smooth combination of cabaret and vaudeville.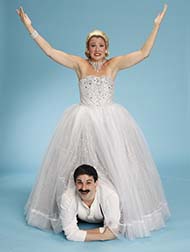 In this version, a fat Che Guevara warbles, "You know why they got rid of me? My lack of star quality." The producers of "Evita" got rid of the Che character as narrator and instead featured pop singer and actor Ricky Martin (Stevens), who was decidedly bland in the role.
Maybe one of the reasons I like "Forbidden Broadway" is because I agree with Alessandrini's critiques. About "Annie," for example, "S'wonderbread. S'marmelade." And Annie is now Granny (Stern): "Tomorrow is yesterday!"
Maybe they're a little hard on Patti LuPone (Stern), the star of the 2008 revival of "Gypsy." "You can wait there forever while I show you my angst," and "LuPone" grimaces. (Not for long, since the real LuPone walked away with the major theater prizes for that show.)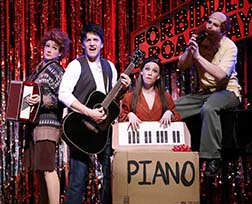 If you've seen "Once," the laid back tale of a two young musicians who meet in a Dublin pub, you will recognize the fellow, "Guy," (Foster) playing a guitar and droning, "We're so unpretentious that now we're pretentious." "Girl" (Stern), arrives with a vacuum cleaner. "Your music is just like my Hoover" she declares in a thick Czech accent.  (It isn't working.) And "Guy" replies, "I had an ex-girlfriend with the same problem." Girl intones "My ovaries' ode to Eastern European language." Wha??? It's brilliant. And there really is a Hoover in the show.
Mary Poppins (Ellis) arrives with a long purple coat chanting "Feed the burbs," ie the suburbs from which the play draws its audience.
The "stand-in" for Bernadette Peters (Stern), with pursed lips, rasps, "In Stephen's ear, I don't get raspy. In Stephen's ear, my voice is beautiful." Think "Buddy's Eyes" from Sondheim's "Follies."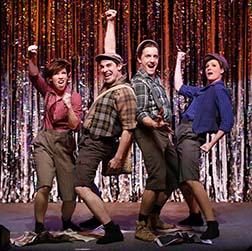 The boys in "Newsies" are overcooked dancers jumping with papers stuck to their feet, "jumping so frenetic they may need a medic."
A longtime favorite that I imagine will stay in the show as long as The Lion King stays on Broadway (ie. near to permanently), is "African Baloney," or "Hamlet goes Safari." Designer Heckman has a field day, with such adornments as chopsticks attached to fingers and plastic spoons stuck to chests.
"Jersey Boys" is spoofed with great New Jersey accents, great hair, red jackets and the line "walk like a man, sing like a girl."
There's much more. It helps a lot if you've seen most of the shows, but some of them or their stories have seeped so deeply into the popular culture (who doesn't know about Mary Poppins), that the musical skits are delights in themselves.
"Forbidden Broadway Alive and Kicking." Created and written by Gerard Alessandrini; directed by Alessandrini and Phillip George. 47th Street Theatre, 304 West 47th Street, New York City. 212-239-6200, 800-432-7250. Opened Sept. 6, 2013; closes April 28, 2013.