By Lucy Komisar
This may be the most original play of the season. It's a Chaplinesque melodrama in the style of a silent film, done in black and white, with titles on a translucent scrim and live piano music. There's even a sense of the flicker of the old silents.
The story by Kiran Rikhye is inspired by a Victor Hugo novel that was also a 1928 American silent film directed by German Expressionist filmmaker Paul Leni. It takes place in England, 1686.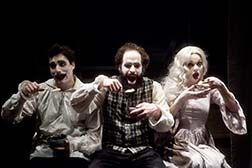 In the play (different from the novel and film), a boy (Noah Schultz) strays outside the orphanage where he lives. He is captured by a terrifying band of miscreants who disfigure him so they can show him at freak shows. But threatened with capture, they abandon the boy. We see his face hidden by a scarf. He finds a baby in the arms of a dead woman in the snow, rescues the child, and then comes upon the wooden shack of Ursus (Jon Froehlich), a ventriloquist. (Pretty hard to show that in a silent!)
It turns out that comprachicos (child buyers, in Spanish) have carved a permanent clown smile into the youth's face.
The ventriloquist shelters the two. He vows to turn them out, but instead lets them stay. Nineteen years later, Gwynplaine (the excellent Dave Droxler) is grown, still with the clown smile. Dea (a fine Molly O'Neill), who alas was blind when she was rescued, is a beautiful woman whose blonde hair and bow lips give her an uncanny resemblance to Mary Philbin in the 1920s silent.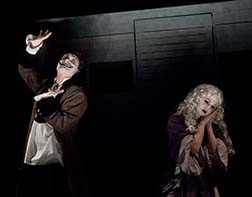 Ursus creates a show where they are seen as puppets in "The Marionette Romance." Of course, they fall in love.
Gwynplaine is a sad clown in tradition of the Pagliacci. He wants to do a more serious play. Ursus tells him, "You think people will see what's in your heart? They see only your face."
The idyll is interrupted by the Duchess Josiana (the comic Rebecca Whitehurst) whose cap of black hair gives her a striking resemblance to Pola Negri. She is bored. Lying in bed in her chateau, under a chandelier, she eats bon bons, she pouts, she fights with her lover, Lord David Dirry-Moir (Raife Baker). When she rolls off the bed, he tries to pick her up and pulls a muscle in his back; she laughs. She is "bored, bored." She thinks, "We could go out and eavesdrop on commoners." So begins events wherein the aristocrats show they will inevitably get the better of the innocent commoners.
It's a tragic, hokey, gripping melodrama, directed with artistry by Jon Stancato. Julie Schworm's black and white period costumes are evocative of the time. Eugene Ma plays smart piano improvisations in the style of the silents. The production is one of a series of plays based on film genres that Stolen Chair is presenting on stage. The ensemble of actors is very good, making it difficult to select out some for special praise. This is an inventive, talented theater group whose work deserves attention.
"The Man Who Laughs." Written by Kiran Rikhye, inspired by The Man Who Laughs by Victor Hugo; directed by Jon Stancato. Stolen Chair at Urban Stages, 259 West 30th Street, New York City. 212-868-4444. Opened Feb 2, 2013; closes Feb 24, 2013. 2/17/13. See review on New York Theatre-Wire.