By Lucy Komisar
I loved this hokey, funny, vaudeville-style parody of a British mystery melodrama. My mouth stretched into a wide grin at the lampooning of British imperialism. My feet tapped at the high-stepping, high-kicking choreography. A combination of operetta and English music hall, "Drood" gives clichés a bad name and this production – book, music and lyrics by Rupert Holmes – a very good one.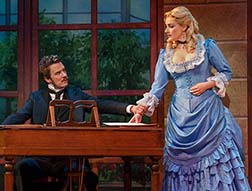 Directed with great élan by Scott Ellis, the musical, is based on the unfinished Charles Dickens novel, The Mystery of Edwin Drood. That last work was published, in part, as a serial in 1871–1872. And then it stopped with his death. It seems quite out of character when compared to his socially-conscious books about the exploitation of workers, women and children. It's a spoof of British society of the time. There you are is a lively number that asks What's a king without a crown.
"Drood" is presented as a music hall play-within-a-play, with the company chairman (the very good Jim Norton) explaining that Dickens' story was never completed and that the audience will be asked to finish it. We are told that the key character Edwin Drood will be played by a male impersonator, Alice Nutting (Stephanie J. Block, a charmer).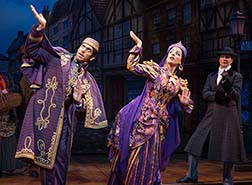 Edwin (Block) is going to marry the ingenue Rosa Bud (Betsy Wolfe, a terrific soprano), who is living at a ladies seminary. But she is also desired by her voice teacher, John Jasper (a perfectly sinister Will Chase), who is Drood's uncle. To complicate matters, Rosa attracts Neville Landless (Andy Karl), who has come from Ceylon with his twin sister, Helena (the excellent Jessie Mueller). (Got that straight?)
We know that Helena is from South Asia, because often when she speaks, she holds her head to the side and circles her fingers in a parody of how the British imperialists viewed Asians. She comments, "I wish I could express my gratitude without this strange geographically untraceable accent."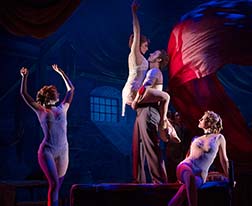 To continue that theme, Drood is planning to take rocks from Pyramids to construct a road across the desert. The belligerent Neville says, "It's not enough you put muck in our tea…" (There's a dispute and a clever song, "Ceylon.") The gag is continued throughout with hands-put-together Namastes.
To make the story more interesting, Jasper, the villain of the piece, frequents an opium den run by the Princess Puffer (Chita Rivera), where he has erotic fantasies of ladies in underwear.  (He sings "A Man Could Go Quite Mad.") That provides a nice dance interlude choreographed by Warren Carlyle.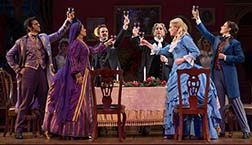 The crisis occurs after a Christmas dinner, when Drood takes a walk in the mist and doesn't come back. His coat, which he had borrowed from Jasper, is found stained with blood. Months later, detective Dick Datchery appears to investigate. (Curiously, there is no Datchery listed in the playbill. Hmmm.)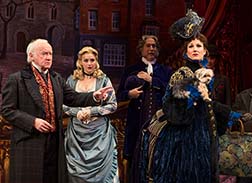 No need to tell the rest of the story here, except to say that it is full of surprises, as are all good mysteries. And animated production numbers. At one point, the actress playing Drood, carrying her small dog, departs in a huff through the theater aisles.
The dénouement? Up for grabs. At the end, the audience is asked to solve the crime and choose two (innocent) lovers from the cast for the happy ending. I didn't much like the choice made by the tacky audience: the youngest boy and the oldest woman, a task which Chita Rivera carried off with aplomb.
The sets by Anna Louizos are lush, a great red wood-paneled dining room, a seminary greenhouse, the foggy Cathedral graveyard, a street with half-timbered houses.
When it was first staged in 1985 (with Betty Buckley as Drood) as part of the New York Shakespeare Festival, Holmes became the first person to, on his own, win Tonys for Best Book, Music and Lyrics. He and "Drood" also got New York Drama Desk Awards.
"Drood" is clever, smart, entertaining and the best musical revival of the New York season.
"The Mystery of Edwin Drood." Book, music and lyrics by Rupert Holmes; directed by Scott Ellis; choreography by Warren Carlyle. Roundabout Theatre Company at Studio 54, 254 West 54th Street, New York City. (212) 719-1300; Opened Nov 13, 2012; closes March 10, 2013. 2/22/13. See review on New York Theatre-Wire.