By Lucy Komisar
It's rural Ireland in 1936. The house is comfortably lower middle class, with a lace-covered table and a fireplace mantle topped with old photos. It's a picture of the times. And so are the personal relations.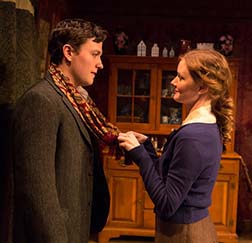 This feminist work by Teresa Deevy, an Irish playwright who wrote in the 1930s, is about a spunky young woman whose only way out was to marry an older man. Director Jonathan Bank stages it as if it were an old movie, with no modern lens.
Katie Roche (given an appealing performance by Wrenn Schmidt) has no family (that she is aware of) and must work as a maid in the household of Amelia Gregg (Margaret Daly) and her brother Stanislaus (Patrick Fitzgerald), an architect who spends a lot of time in Dublin.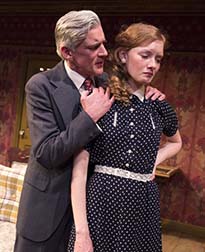 Katie is sweet on young Michael Maguire (a charming Jon Fletcher) who likes her. But Stan, about 20 years older, wants to marry her.
Katie seems both na¯ve and tough. She doesn't quite know how to handle Stan, but some gut survival instinct tells her that's where her better future lies, if not with romance, then with security. Better than entering a convent to save her soul, which was her earlier considered way-out.
Katie is not careful enough to keep Michael far away from the jealous Stan. When he comes home suddenly and finds Michael hiding behind a curtain, he leaves her for Dublin without explanation. He treats Katie like a child.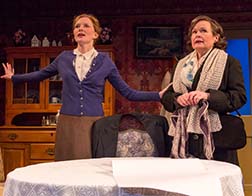 Amelia, by the way, about the same age as Stan, turns out to have a suitor she is rejecting almost out of embarrassment. Daly is good at showing her sweetness and her terrifying timidity. There's also a busybody sister Margaret, a persuasively overbearing Fiana Toibin.
Then Katie finds that a local "godly" guy from a "grand family" is her nasty father. A bit of hypocrisy there, appropriate for Catholic Ireland.
Still, she stays on her feet and you believe that with fortitude she'll overcome her situation. Maybe.
"Katie Roche" is dated, but noteworthy as social history. Deevy had her plays performed by the Abbey Theater in Dublin. She also had a lot to overcome. She wrote her plays and achieved her success even though she was deaf. She died in 1963.
"Katie Roche." Written by Teresa Deevy; directed by Jonathan Bank. Mint Theater Company, 311 West 43rd Street, New York City. 866-811-4111. Opened Feb 25, 2013; closes Mar 31, 2013. 3/15/13/.