By Lucy Komisar
I met Benazir Bhutto in 1987 when she was leading the Pakistan People's Party in a national parliamentary campaign. I traveled with her on a motorcade in Sailkot, in the Punjab, northern Pakistan, where she was mobbed by supporters. From the top of the reporters' minivan in front of hers, I could see crowds along the way shouting, chanting, some holding photos of her, young men dancing to loud piped music in front of the crawling vehicles, flags waving. Women were watching from atop one and two-story buildings along the route. It took hours instead of 20 minutes to get to a stadium where she addressed a mass rally.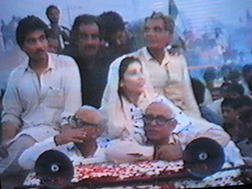 The candidate may have been female, but it didn't occur to her supporters that the woman along the route might descend and stand with them. That was because Benazir was viewed not as a woman running for political office, but as the daughter of Zulfikar Ali Bhutto, the prime minister who had been hanged by his political opponent General Muhammad Zia-ul-Haq. Benazir had taken the party mantle in a feudal way, taking power passed down as a monarch might do to the next in line.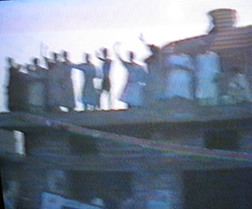 Another irony that showed how far she was from the masses was that when she gave her speech, though she spoke in Urdu, sitting behind her in the arena, I could see that her notes were written in English.
Knowing who Benazir was makes it clear that we are not talking about a woman seeking power, quite revolutionary in a Muslim country, but the scion of a powerful political family reclaiming her due. Plus ҁa change.
Our conversation took place the day after the rally, at the home of a supporter where she was staying. She was prescient about the impact of the Islamic Afghanis who had arrived in Pakistan during the war with the Soviet-supported government. The Islamists were being financed by the U.S. and the Saudis, with funds moving through the Pakistani military.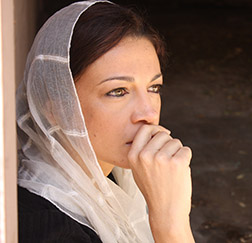 Bhutto told me that "the threat of the refugees permitted by Zia could pose a long-term problem. …. They have got safe houses, ammunition dumps, networks. …. My concern is that Pakistan in the future should be stable enough to absorb the shock should these networks become operative even after a solution."
Anna Khaja's fascinating one-woman play about Bhutto, which she also performs, understands who she is and the political contexts in which she operated, both international and local, including the role of the Taliban.  There is a simple set with a slatted divider on which a white fabric is thrown to be a screen for projections. We hear pulsating Pakistani music. Sometimes Khaja sits in a straw chair. Her costume changes include a white scarf, a vest, pulled back hair. With direction by Heather de Michele, Khaja persuades you that she is every character she portrays.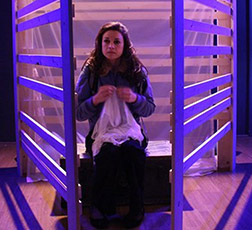 Among the characters in the play are Sara, a young student whose mother is American and whose Pakistani father left them when she was a child. She reminds us that the U.S. called General Musharraf "the gentle dictator."
Another is Condoleezza Rice as George W. Bush's secretary of state who brokered the deal that allowed Benazir to return to Pakistan in 2007 to share power with Musharraf. When Bhutto asked the U.S. to guarantee her safety, the reply was that, "The U.S. doesn't meddle in other countries' affairs." The audience laughed. Of course, the U.S. then as now provided massive military assistance to Pakistan and had the power to cut that off.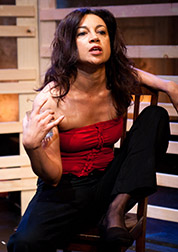 Daphne Barak, portrayed as a self-important Israeli-American journalist who became Benazir's friend, is a change of pace seen interviewing her at her house in Dubai. Quasim, a professor of religious studies at Boston University, had worked with Benazir in the Pakistan People's Party and fled repression.
Fatima Bhutto, another journalist was Benazir's niece, the daughter of her brother, and the best analyst of the political situation. She suspects Benazir of being responsible for ordering her father killed. She reminds us that Musharraf ousted an elected government and was given $10 billion by the U.S. And that he gave money to the radical Islamist madrassas.
But the U.S. government said, "We can't lose Musharraf. No military domination means no U.S. control in Pakistan. How can we squelch this revolution?" Fatima says, "You have to hand it to Condoleezza. Let's send you back to Pakistan, Benazir, to share power with Musharraf. It will be ˜democracy light.' You can get ˜elected,' even start a few social programs.  With your pretty face there, no one will notice that a military dictator is actually running Pakistan."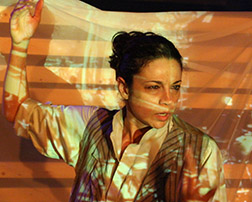 She adds, "Do you know who else the United States saw as a beacon of democracy? Pinochet, the Shah of Iran, Saddam Hussein, when it suited them. Such illustrious company you share, auntie."
We see the local world Benazir confronted through Shamsher, a poor auto-rickshaw driver, and Afshan, the daughter he sent to a madrassa to house and feed her so he would not have to sell her. Shamsher wonders "what George The W Bush [was] thinking giving Musharraf the money all the time? Do Americans really not know that Musharraf is a friend to extremists?" Shamsher supports Benazir as a fighter against poverty and corruption, but Afshan, 13, becomes an Islamic militant who beats up a woman in a bordello.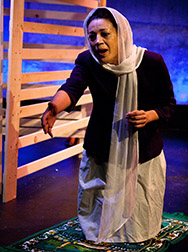 Finally, we see Benazir, who had served 1988 to 90 and 1993 to 96 as prime minister and gone into exile when she was dismissed on charges of corruption in 1996. In Sam Saldivar's effective projections, we see her in the 2007 return from exile van moving through the streets through mobs of young men pulsating against her motorcade. It must have been like the one I witnessed twenty years before. Then in a flash, Benazir meets her death at the hands of a suicide bomber. From that comes the honorific Shaheed, an Arabic word meaning witness, which has come to mean martyr.
Khaja's analysis is focused, measured and honest. She admires Benazir but doesn't hide her flaws. And she is excellent as an analyst of America's routinely disastrous foreign policy.
"Shaheed – The Dream and Death of Benazir Bhutto." Written and performed by Anna Khaja; directed by Heather de Michele. Culture Project and Women Center Stage at 45 Bleecker Street, New York City. 866-811-4111. Opened March 14, 2013; closes April 1, 2013. 3/17/13. Review on New York Theatre-Wire.