By Lucy Komisar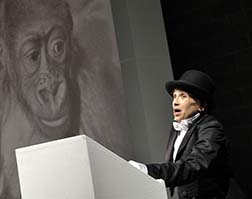 To be brilliant at playing a human is one thing, but to pull off a tour de force portraying a speaking animal is quite another feat. Kathryn Hunter is an extraordinary actress, and her performance in Kafka's Monkey will be remembered as one of the best of this and many seasons.
The play is based on Franz Kafka's "Report to an Academy," a short story published in Germany in 1917. It was adapted by Colin Teevan and directed by Walter Meierjohann, who must share in the acclaim. Their production was first staged by London's Young Vic in 2009 and now is being presented by the Theatre for a New Audience and the Baryshnikov Arts Center.
A monkey that was captured in Africa and transported to England is addressing an erudite gathering to tell how he learned to act as a human.
You need to know that monkeys trained to mimic humans were presented on the English music hall stages at the beginning of the last century. They could do soft-shoes with canes and tricks with bowler hats.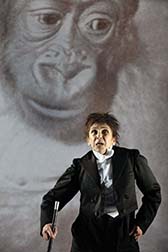 This monkey goes beyond that and in Kafka's imagination appears before a most "civilized" academic audience to discuss the world he left and the "civilization" he entered. (We know the monkey is "he" since he is wearing a male's white tie and tails and indicates a sexual connection with a female monkey.)
The story is suffused with subtle irony. But Hunter's performance adds to it immeasurably.
Her face and moves are simian. Her mouth and cheeks are puffed up to resemble the monkey on the huge screen behind her and which she sometimes gazes at as if to remember his past. Her stance and movement – her slight hunch, back-swinging arms, bent knees, jerky movements and twists – create such an extraordinary physical picture of a monkey that when she takes her curtain call you suddenly realize she is a foot taller, that she has played the hour with her knees bent.
Hunter's delivery is ironic as the monkey relates humans' cruelty and crudeness in a matter of fact way. He tells of his capture in Africa five years earlier where hunters shot him in the groin, causing a scar that led to his name Red Peter, and then his  imprisonment in a cage where he could not stand or sit. (Kafka foretold the "tiger cages" in South Vietnam.)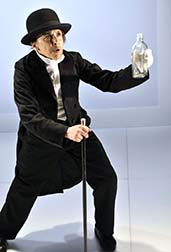 He decides that since a monkey will be caged, he sees "no way out" except to emulate a man. Born "a free ape," he submits himself to "the yoke." His introduction to "civilization" is a ship's crew member slipping him a bottle of rum. He has to overcome his disgust of it. But civilization means getting drunk.
Arrived in England, Red Peter has a choice between the zoo and the music hall. Obviously, he chooses the latter and from time to time breaks into a soft shoe with cane and bowler hat. He expertly flips the latter from his head and catches it.
He insists with straight-faced mockery, "Your former lives as apes, esteemed members of the academy, are as far behind you as mine is behind me."
He declares, "And it was so easy to imitate these men. In the first few days I learned to spit. We'd spit in each others' faces, the only difference between us being that afterwards, I'd lick my face clean. And they would not."
But he never seeks the freedom he'd had as an ape, because he discovers that among men that is an illusion that often betrays them.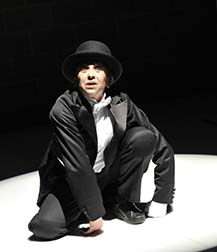 Red Peter occasionally reverts to being a monkey, approaching audience members in the first row or aisles, pressing his face into theirs, pretending to eat lice he catches in their hair. He crouches, lumbers and careens around the stage squealing like – a monkey.
He climbs a ladder on the wall and, hanging from it, continues to declaim. We get the sense that Red Peter is resigned to life as a man while occasionally, wistfully, remembering monkey freedom. Hunter (who is 55) at one point lands in a split and pulls a leg around where it doesn't seem physically able to go.
Hunter's performance is a theatrical triumph.
"Kafka's Monkey." Adapted by Colin Teevan from "Report to the Academy" by Franz Kafka; directed by Walter Meierjohann. Theatre for a New Audience and Baryshnikov Arts Center, 450 West 37th Street, New York City. 866-811-4111. Opened April 4, 2013; closes April 17, 2013. 4/5/13. Discounts for students or 25 & under w/code NEWDEAL online, phone or box office. Review on New York Theatre Wire.