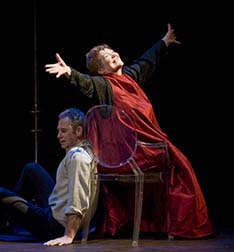 Sometimes Tina Packer's "Women of Will" seems like a bravura performance by a very talented actress. Other times it is a university course by a master teacher. In fact, it is both, an artistically and intellectually stimulating event for lovers of Shakespeare or simply lovers of the art of acting.
I delighted in Packer's ability to shift seamlessly among women who are in turn supine, ingratiating, furious and sultry. At the same time I was fascinated by her revelation of how Shakespeare changed in his development of major female characters.
Packer's ability shows in the change of face, demeanor, and body language among a dozen or more characters, with expressions moving from girlish, to coy, to overpowering, to grim, in voices that are high (submissive), sultry, or grim, never simply assertive. The acting is interspersed with her commentary.
Packer is ably partnered by Nigel Gore in the male roles, the romantic ones, from Petruchio to her Kate, to Romeo and Othello, and the villainous ones in the Henry plays. Director Eric Tucker assures that the shifting moods each assume center stage seamlessly.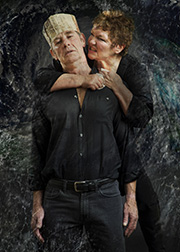 Most of Shakespeare's plays had few women, and they were outside the power structure, except for Cleopatra. Packer starts at the nadir, the submissive Kathryn in the misogynist "Taming of the Shrew." Petruchio insists "I say it's the moon" and pulls out a belt. She will declaim, "Tell these headstrong women the duty they owe." And he puts the belt around her neck. As Packer points out, she's had her food and clothes and then her language taken away. The contrast Shakespeare sets is Kathryn's sister Bianca, the little virgin on a pedestal.
But Shakespeare has a journey of enlightenment. He moves from women the supplicant or charmer, as Margaret in the Henry plays of the Wars of the Roses, to the warrior woman, Joan of Arc. The charmer would be more successful.
One is Elizabeth Woodville, who arrived at court to seek return of lands and, smiling flirtatiously, entranced King Edward and married him. She would be the great-grandmother of Queen Elisabeth I, who was on throne for most of Shakespeare's life. The Wars of the Roses would come to an end by a woman's maneuvering.
Packer says Shakespeare stops writing about women and starts writing as if he were woman. Now women could have sexuality and spirituality on their own terms.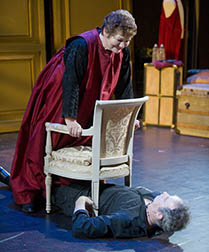 After a dozen plays of ruling conflicts and violence, expressed most bloodily in the Henry plays, he turns to love relationships. Packer's Juliet is another flirtatious charmer. The set, by the way, is just a chair, a carpet and a riser on one side. The balcony is created by Packer leaning on the chair and looking over its back to Gore lying beneath it.
About women such as Juliet and Desdemona, Packer points out, "If they stay in frocks they get killed." If disguise themselves as men, they turn out well. That's Rosalind pursued by Orlando in "As You Like It."
However, it doesn't turn out well for women if like Lady Macbeth they take over masculine attributes and want the top jobs and power.
Later, Shakespeare plays out the cycle of violence and looks to myths, fairy tales, parables – "Pericles" where the daughter puts things right. The women, often brought up in nature, redeem the sins of the father.
I saw only "The Overview." Packer and Gore do five separate performances that include many more women. "Women of Will" was developed during 15 years when Packer was Artistic Director at Shakespeare & Company in Lenox, Massachusetts. Beginning in 2010, she's performed it in Lenox, Cambridge, Boulder and Prague.
Brilliant in its conception, it is supremely satisfying in its achievement.
"Women of Will." Written by Tina Packer; directed by Eric Tucker. The Gym at Judson, 243 Thompson Street, New York City. 866-811-4111.  Opened Feb 3, 2013; closes May 26, 2013. 5/25/13.