By Lucy Komisar
Sue Mengers (Bette Midler) was the kind of person who sucked up to those above her and had contempt for those below. A perfect fit for Hollywood, where the title, "I'll Eat You Last" refers to an affectionate comment by a cannibal, in, as she describes it, "a cannibal love story." Think about it. Kudos to playwright John Logan for the title as well as the script.
Following the metaphor, Mengers' story shows how those whose careers she helped dropped her when it was convenient. But they were all playing the same game, so you can't really feel sorry for her.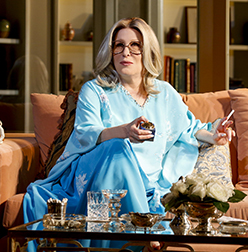 Bette Midler channels Mengers brilliantly as the half obnoxious, half charming (each characteristic aimed at difference audiences) Hollywood agent who, beginning when women agents were unheard of, rose to the top, representing such stars as Barbara Streisand and Gene Hackman. But we see her on the way down, when she is desperately seeking to persuade Streisand's lawyers not to switch agents.
Director Joe Mantello understands how to make Midler/Mengers appear both caustic and sympathetic. We like her even though we may not like what she stands for.
Midler sits on a salmon-colored sofa wearing a blue caftan to hide Mengers' excess pounds. (Mengers notes, "Exercise doesn't play a big part in my life. By this time your Sue has embraced her inner zaftig.") Her hair is long and blonde. She wears rimless glasses. The luxurious room is decorated with leafy plants and flowers. We see palms outside the windows.
She is awaiting a call from Streisand's lawyers. Ironically, it was Streisand who opened doors for her, introduced her to le tout Hollywood and helped her get started as an agent.
In the course of waiting for the call, she tells us about her life. It's a fascinating glimpse into the Hollywood netherworld as well as a primer of how to be an agent.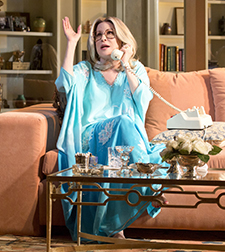 Young Mengers lived in the Bronx and got a job as a secretary at the William Morris Agency. She started going to trendy parties and telling everyone she was "Sue Mengers from William Morris."  A secretary? An agent? Who knew? Then she'd make the "Bataan death march back to the Bronx." Mengers was very witty, aggressively so; she could have been a stand-up comic.
Midler portrays Mengers terrifically. She is vulgar; she swears a lot; she smokes cigarettes and pot. Her smile is a grimace, her speech is speeded up, exaggerated. She is ferocious. Her conversations with producers are fascinating, even instructive, especially the one where she fights to get Gene Hackman the role of Popeye in "The French Connection." Hackman would show his appreciation later by dropping her.
On the other hand, she gives as good as she gets. It's called poaching. She describes how she trudged through mud on Cissy Spacek's farm to try to sign that actress. No go.
She learns that part of fitting into Hollywood is conspicuous consumption. She recalls, "Actually I did have one argument with my decorating boys. They insisted on putting in the pool. You cannot have, they averred, a Beverly Hills mansion without a pool. You will lose the respect of your friends and neighbors. You will lose tiles in the great Mah Jong game that is Hollywood. So I let them put in the fucking pool."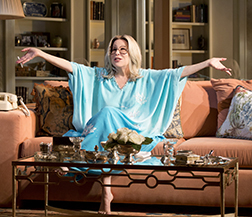 She is, however, not above the local passtime, dishing gossip. She quips, "If you can't say anything nice about someone, come sit by me."
Her husband was a writer, director, and producer, and she ran into trouble when she got her actors to sign onto a disastrous production he promoted. Things ground down. She sighed, "We used to laugh more. Honey, we used to have fun."
But audiences have a lot of fun at this exceptional Bette Midler reenactment of a rather exceptional woman.
"I'll Eat You Last: A Chat With Sue Mengers." Written by John Logan; directed by Joe Mantello. Booth Theatre, 222 West 45th Street, New York City. 212-239-6200 or 800-447-7400. Opened April 24, 2013; closes June 30, 2013. Review on NY Theatre Wire. 6/2/13.