By Lucy Komisar
Imagine a Shakespeare play set to 1940s big band swing. What could go wrong?
Daniel Sullivan's production of "The Comedy of Errors" at the Delacorte is a smashing, charming, cool, jazzy production that leaves the story a bit in the dust.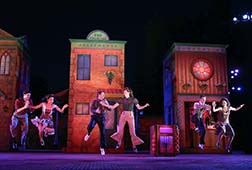 One wonders what happens when some of Shakespeare's less significant works are produced without emphasis on the poetry of the iambic pentameters. In this case, the abbreviated (cut to 90 minutes) story of twins lost in a shipwreck and then reunited seems to disappear. The fun is in the 40s jazz and mafiosi characters. That is not to be minimized.
This is New York in the 1940s. We know it's New York, because the bus station signs say so in the colorful cartoonish sets by John Lee Beatty.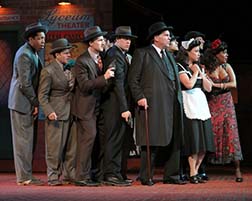 Ephesus was in Turkey and Syracuse in Sicily [not to mention in upstate New York], but let's tweak the geography so that the Duke of Ephesus is a Sopranos style mafioso (a terrific Skip Sudduth in black pin stripes and fedora). Let's also change the time so that the locals move in swing rhythms to the jitter-bugging choreography of Mimi Lieber.
Two brothers both conveniently named Antipholus (the excellent Hamish Linklater in the dual roles) are separated as infants by a shipwreck, each along with their infant servants, both Dromio (Jesse Tyler Ferguson). After rescues, each pair of master and servant ends up in different cities of that ancient world, one pair along with dad (Jonathan Hadary as Egeon) who landed in Syracuse and the other with mom (Becky Ann Baker), who survived in Ephesus and became a nun, then the abbess.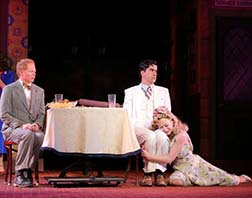 Egeon's son Antipholus of Syracuse, attended by Dromio arrives in Ephesus in search of his twin. His father by chance has also journeyed there to look for his son and has been arrested by the Duke, who is in mortal conflict with Syracuse.
There ensue numerous mistaken identities, as both sets of twins and servants, as well as the local Antipholus' wife Adriana (Emily Bergl) take one twin for the other. The audiences of the time must have loved Adriana begging the wrong brother for sex.
There's also some feminist dialogue between Adriana and her sister Luciana (Heidi Schreck).
LUCIANA
Good sister, let us dine and never fret. A man is master of his liberty.
ADRIANA
Why should their liberty than ours be more?
And
LUCIANA
O, know he is the bridle of your will.
ADRIANA
There's none but asses will be bridled so.
Even in this early play, Shakespeare showed his modern thinking!
The Shakespearean drama is not all there in Sullivan's production, but the jazz age staging is a delight. Maybe it's Shakespeare light.
"The Comedy of Errors." Written by William Shakespeare; directed by Daniel Sulliva. The Public Theatre at the Delacorte Theater, Central Park, near 81st Street and Central Park West, (212) 539-8750. Opened June 18, 2013; closes June 30, 2013. 6/27/13.