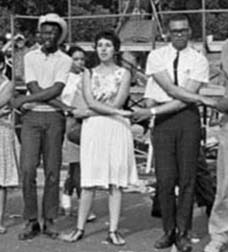 By Lucy Komisar
Aug 28, 2013
Since it's the 50th anniversary, I'm writing a brief remembrance about the March on Washington. I'd been in Jackson, Mississippi, for a year, editing the "Mississippi Free Press," a civil rights weekly. In August 1963, I took a bus home to New York, stopping at the March, which friends of mine had helped organize.
I'd met the key organizer Bayard Rustin in 1960 when as a college student I volunteered at the 125th Street office of "The Committee to Defend Martin Luther King and the Struggle for Freedom in the South."
In 1962, I went south and soon was named editor of the Free Press. The corporate papers, The Clarion Ledger and Jackson Daily News (same owner) were racist, and a few "liberal" papers were "soft-spoken," to put it mildly. The Free Press was the only paper in the state that was outspoken about civil rights.
After a year, I went home via the March on Washington. Mostly, I remember my exhaustion after the bus ride from Jackson and a sense of unreality about the event, that it was glorious theater. Here's the photo.
Another was reprinted in The Washington Post Aug. 15. I'm second from the left. You might recognize Eleanor Norton Holmes in the middle. The photos were by Danny Lyon.
The slogan was "jobs and freedom." In spite of the verbiage from the people who run the government (politicians, bankers and CEOs), we haven't gotten that yet.
Information about me and the Mississippi Free Press is in the archives of the University of Southern Mississippi.