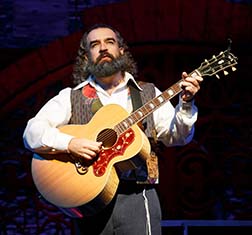 It's a smidgeon corny, but I found this play about the rabbi-rock singer Shlomo Carlebach (Eric Anders) and the jazz singer Nina Simone (Amber Iman) rather charming. And very entertaining.
The story takes Carlebach from Nazi-occupied Vienna, from which he escaped with his chief rabbi father, but not before the young Shlomo saw people he knew murdered or sent to concentration camps.
Director Daniel S. Wise does a good job connecting the vignettes, making them stylish as well as realistic.
In New York, Shlomo follows his father into the synagogue to study the Torah. He takes his mother's cookies to a hungry person and is chided for that. He chafes at the limitations of tradition. His brother gets him involved with the Brooklyn Chassidim, albeit not in the mainstream but even more restrictive than what he had left.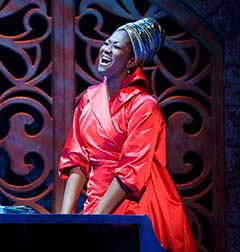 By chance, he goes to sing at a Columbia Rosh Hashanah dance event where the students are not enamored of his sexism when he says, "All the women to separate to this side …and the men to this side." A coed declares, "What are they, nuts? The women shout, "Misogynists!" "Gynaphobic Dinosaur!" "Go back to the Dark Ages!"
Carlebach, by now a young man, asks the band leader, "Are you sure we're gonna reach millions?" The musician says, "Not by going back to the 19th Century. Wake up man! There's a revolution goin' on."
He takes up the young musician's invitation to hear his group at  a nearby jazz club. But he gets there too late and instead hears the jazz singer Nina Simone, who is not yet celebrated. It is a revelation. Iman has a rich sultry voice.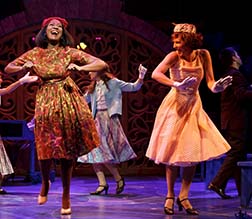 She tells him he can't know how she feels about the slave past of her family. He tells her about the Holocaust. "I saw my father's synagogue engulfed in flames… just like your family's church." They become friends. She talks about the power of music and takes him to a revival meeting at her mother's church.
Carlebach is taken by the jazz sound. It influences his own, though still with a religious text, but now a modern feel. He sings "Peace in your heart, shalom." Anderson has a good folk singer's voice.
He tells her, "I'll make you a deal, Nina. I'll try my songs in synagogue if you try out for Carnegie Hall."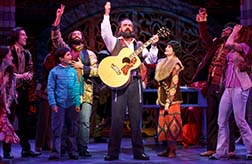 In Washington Square Park, a blind guitarist teaches him the instrument. Then Carlebach is discovered by a record producer who tells him, "Not to drop names; you heard of Peter Paul and Mary?" Carlebach replies, "I don't know so much the New Testament." That's the nature of the humor. Not brilliant, but funny.
Carlebach makes an album of Jewish songs, which takes off. And he helps Simone reach fame. She invites him to perform with her at the Village Gate. The Gate was a jazz club run by Art d'Lugoff, a Zionist and advocate of civil rights, the perfect impresario to present Simone and Carlebach together. (Sorry there's not a D'Lugoff character in the play.)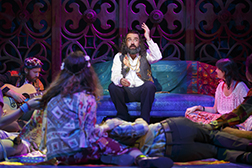 Carlebach is challenged, accused by the traditional Reb Pinchas (Ron Orbach), his childhood tutor, who had instructed him that, "Being a Jew is about pain and suffering!" and "Joy is for the Gentiles!" Reb Pinchas will be his nemesis through the years, his "holy heckler."
Carlebach leaves New York to go to the flower-child capital of San Francisco, where in Haight Ashbury he builds "The House of Love and Prayer."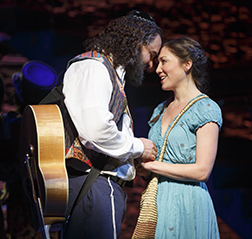 Ruth (Zarah Malher), a young counter-culture woman, develops an affection for Carlebach. Malher has a strong sweet voice.
Carlebach's rabbi father marches with Martin Luther King Jr. in Selma. So, their politics were really not so far apart. Change happens.
Anders voice is miked, but that's fine for rock. So is his long curly hair.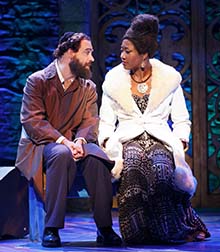 The backdrop is a rough concrete wall; at the end, it appears to be the Wailing Wall.
I thoroughly enjoyed this production – the politics, the music — including such numbers as "Rosh Hashanah Rock," "Lord Get Me High" and some very fine jazz numbers by Iman/Simone.
"Soul Doctor." Music and additional lyrics by Shlomo Carlebach, book by Daniel S. Wise, lyrics by David Schechter. Directed by Daniel S. Wise, choreographed by Denoit-Swan Pouffer. Circle in the Square, 50th Street between 8th Avenue and Broadway, New York City. (212) 239-6200. Opened Aug 15, 2013. Closes Oct 13, 2013. 9/9/13. Review on NY Theatre Wire.