By Lucy Komisar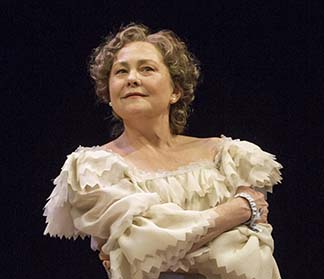 Cherry Jones is acknowledged as one of the best actresses on the American stage today. I first saw her in 1998 in "Pride's Crossing" at Lincoln Center where she played a woman from childhood to dotage with no change in make-up, making you believe the age of the characters with the expressions and twists of her face and the angles and rhythms of her body and walk.
She dominates this play in a portrayal of a character who she makes at once sympathetic, annoying and absurd.
It's the 30s, the Depression, which had a place in Tennessee Williams' political consciousness. We see it in the reflections of Tom (the very fine Zachary Quinto), who, standing outside the play, declares that, "In Spain there was revolution. Here there was only shouting and confusion. In Spain there was Guernica. Here there were disturbances of labor, sometimes pretty violent, in otherwise peaceful cities such as Chicago, Cleveland, Saint Louis… This is the social background of the play."
But after that moment, you must exert yourself to imagine the social backdrop of the hermetically sealed existence of Tom's mother, the overweening and overwhelming Amanda (the brilliant Jones) and his sister Laura (Celia Keenan-Bolger).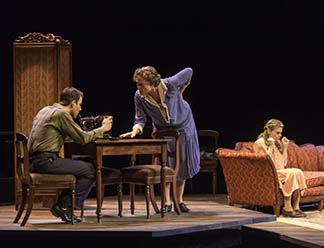 It is St. Louis, but the sense of place is as much the Mississippi Delta where Amanda grew up as the belle of the ball. She tells us that she choose her husband, a telephone company worker. Then things fell apart when he skipped out 16 years ago though she keeps his picture on the wall. It takes only a while to realize he was running for his life.
The set is a bare living room with a salmon-colored sofa, a round brown wood table, a coat rack, a dining table and chairs, a Victrola and a (symbolic?) fire escape which is the stairway to the street.
Amanda in her 40s, who remembers the years when she had many beaux, works the phone selling subscriptions to a ladies' magazine. Jones shows her as dominating, assertive, still flirtatious, sometimes histrionic, always a nudge. Her pretenses are as implausible as the romance stories in the magazine. But she is living half in a fantasy past and refusing to recognize the limitations of her present. That comes through in her voice, which is   specifically Delta, with a high sometimes nasal pitch that often turns into a shriek.
She is seeking life and security through her children. But they each deal with reality through some kind of fantasy.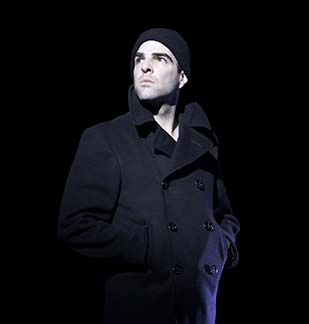 Tom in his early 20s feels trapped in a job at shoe warehouse which he does to bring home money. His way way out is escape through writing poetry and going to the movies.
Daughter Laura, who has a slightly twisted foot and a limp, is morbidly shy. She plays with glass animals and listens to records. She is as fragile as the glass. (In his play notes Williams wrote that Laura "is like a piece of her own glass collection, too exquisitely fragile to move from the shelf.")
Sometimes we see in her imagination the lights of the menagerie spread over the stage.
Amanda had sent her to business school, but she dropped out after a few days and covered that up by spending days wandering in parks and museums.
A brief moment of hope comes when, on Amanda's urging, Tom invites a warehouse co-worker to dinner. Amanda imagines he will be the gentleman caller who will marry Laura and solve their financial problems. She brings a string of lanterns to pretty up the dreary apartment.
Amanda dresses absurdly in a frilly white ball dress. Jones moves and talks like a whirlwind, sashaying across the floor as if she were recapturing her youth. When Jim (Brian J. Smith) arrives, she is so overbearing that he wipes his forehead.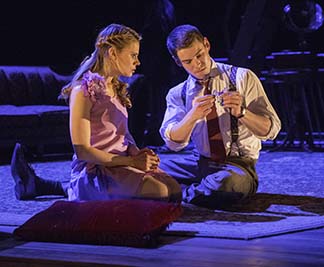 Then are some charming moments when Laura and Jim sit on the floor remembering their high school days. He tries to buck her up. But he has another life. Smith makes him a more rounded, sympathetic character than I've seen in the past.
John Tiffany's production is as shattering as the miniature glass unicorn we expect will break. Characters don't just say their lines, they express them physically. Tom crawls on the floor in his misery.
This is an autobiographical play for Williams, who saw himself as the struggling writer Tom (Williams' given name was Thomas) but also feels guilt for his sister, Rose, who was schizophrenic, subjected to a lobotomy and put in an institution. He/Tom says at the end of the play, "Oh, Laura, Laura, I tried to leave you behind me, but I am more faithful than I intended to be!"
"The Glass Menagerie." Written by Tennessee Williams; directed by John Tiffany. Booth Theatre, 222 W. 45th St. (btwn 7th & 8th), New York City. 212-239-6200 or 800-432-7250;   Opened Sept 26, 2013; closes Feb 23, 2014. 10/19/13. Review on NY Theatre Wire.