By Lucy Komisar
"Lady Day" with Dee Dee Bridgewater as Billie Holiday is terrific cabaret, but not so memorable theater.
Dee Dee Bridgewater is an accomplished jazz singer who recreates Billie Holiday so expertly you'd swear she had channeled her. Musically. But the play written and directed by Stephen Stahl is so hokey and histrionic that it gets in the way of the artistry. Stahl has been working on this production and trying to bring it to New York for years, decades. But perhaps his emotional connection overwhelmed his artistic sense.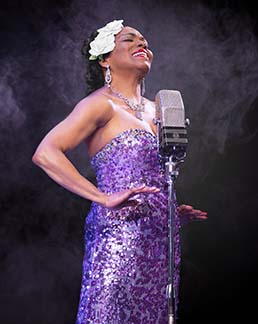 The play shows Billie in London where her manager (a too-laid-back David Ayers) is trying to steer her sober as she rehearses with a band for a bet-the-house performance to salvage her reputation so she can return to work in New York.
She was a brilliantly successful singer/songwriter, but the play focuses on just the horrors. It's true that Holiday had a tough life. She was born in Philadelphia in 1915. The script shows her at 11 being raped by a neighbor. She was sent to a Catholic reform school – just the way the court system punished victims. Her mother left her to go north and find work. The story ignores her then joining her mother in New York and as a teenager working at a brothel, but maybe we'd seen quite enough.
The first act songs are alternated with such vignettes of Billie Holiday's life, which seems to have eluded happiness. The play picks her up traveling as a singer in the South, blistered by virulent racism. Perhaps to dull the pain and because it was endemic in the jazz milieu, she drank a lot and shot heroin.
Billie Holiday had a long and interesting professional life including singing with Count Bassie and Artie Shaw and as a recording artist for Columbia Records. She got the nickname Lady Day from the tenor saxophonist Lester Young. But you don't see any of this.
In the bad-old good-old days, from Prohibition to 1967, New York City required performers in clubs to have police-issued cabaret cards, which could be taken away for a variety of reasons, including use of drugs. Other greats who lost their cards were Chet Baker, Charlie Parker, Thelonious Monk, for drug charges, and Lenny Bruce for "obscenity." Frank Sinatra refused to perform in New York, saying that applying for a card was demeaning.  After a year in jail on drug charges, Billie Holiday lost the card. The system was abolished after a campaign by prominent intellectuals and artists.
But she was more than a sometimes-drugged world-class singer, she was a songwriter. She wrote the music and lyrics for "Billie's Blues (I Love My Man)." She wrote the music and lyrics of "God Bless the Child" with Arthur Herzog Jr. She did the music for "Don't Explain" with lyrics by Herzog. She collaborated on the music and lyrics of "Lady Sings the Blues" with Herbert Nichols.   They are now all jazz standards. You don't get a sense of the intellectual chops that allowed her to collaborate on music and lyrics.
The second act, with Dee Dee/Billie decked out in white gown and fur, the trade mark gardenia in her hair, is hardly different than the first. She can't focus on her performance, tells the audience of her troubles, and makes you think, alright already, just let this extraordinary jazz artist sing.
"Lady Day." Written and directed by Stephen Stahl. Music director Bill Jolly; music conductor John Miller. Little Shubert Theatre, 422 West 42nd Street, New York City. (212) 232-6300, (800) 432-7250. Opened Sept 20, 2013. 10/14/13. Review on NY Theatre Wire.