By Lucy Komisar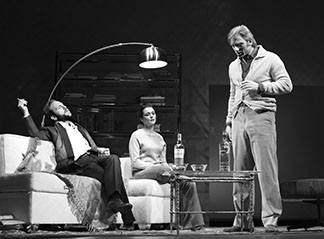 Harold Pinter's play of modern sexual mores shows men and women betraying each other with casual composure, as if they were discussing a love match at a tennis game instead of the love game in their lives.
The play discourses on the civilized trappings of personal infidelity. The triangle is a writer, his wife and the writer's literary agent. Three friends — members of the literary-artistic intelligentsia — engage in sexual unfaithfulness with such sang froid, that they ask after lovers' spouses and children, and one has lunch with the friend he is cuckolding, while suggesting that any other behavior would be downright uncivilized.
I first saw it in 2000 in a David Leveaux production at the Roundabout Theatre and found it enthralling. Liev Schreiber played Jerry a literary agent, Juliette Binoche was Emma an art gallery director who has had/ is having an affair with Jerry, and John Slattery portrayed her husband, Robert, a publisher.
Somehow, Mike Nichols' staging with Rafe Spall, Rachel Weisz and Daniel Craig in the same roles is quite disappointing. I tried to figure out why.
For all the coupling, the overt sense is one of isolation. These people are so encased in their own selfish desires that they seem always to speak past each other. Lies upon lies are uttered with a dry economy of language and lack of emotion — at most, some jaded discomfort. This production about a hot love affair left me cold. The production was a non-erotic play about sex.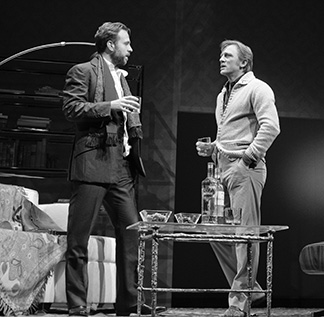 The play is done in flashbacks, each scene occurring after the one that comes next. But in Nichols' presentation, the vignettes seem hurried and you have to shift your brain to review the one you just saw and fix in your head that the one now going on will lead to the previous/ I mean subsequent. Oh, you know what I mean.
The action begins at the end with Emma (Rachel Weisz) and Jerry (Rafe Spall) meeting 1977 after their seven-year affair. The relationship has cooled, both have families. "Ever think of me?" Emma asks. Though they haven't seen each other in years, there's an uneasy intimacy as they interrupt and finish each other's sentences. But their conversation is sparse; there's a sense something is missing. You begin to fill in the meaning. As the action develops, each revelation of what has just past is enriched by your knowledge of what will come later, which you have seen before. One gets the sense of examining relationships under glass.
The men also have a confrontation. "I was your best friend," Jerry yells at Robert, and "you bastard" for not telling him he knew Jerry was having affair with Emma. A rather curious complaint, indicating that Robert not telling he knew was worse than Jerry's deception.
That knowing is caused by a serious glitch in the script. The affair is revealed because the married couple go to Venice on vacation in 1973. How could smart literary agent Jerry be so stupid as to send a hand-addressed letter to Emma at AmEx in Venice? The AmEx agent will say to the husband who picks up the mail, do you want to take this letter for your wife? Robert of course knows the script on the envelope. (What ever happened to typewriters in the 1970s?)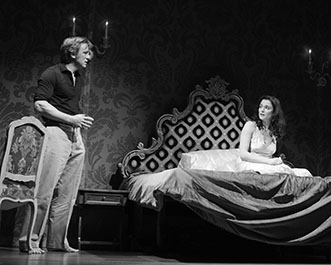 Robert asks his wife, "Where does it… take place?" Emma says "We have a flat." So then Robert knows, but he doesn't tell Jerry.
Moving right along back. The lovers affair starts in late 60s. At a party, she is smoking pot in the bedroom. Jerry, drunk, declares, "I'm crazy about you." There's no indication of why she was unhappy with Robert. Except we learn that he had other women. So Emma and Jerry got an apartment for their trysts. And from time to time all three met and socialized.
But you don't get the idea that either of the men is turned on by Emma or vice-versa. In one scene, when she is on top of her lover, fully clothed, you think they are necking until a not very good simulation of sex becomes apparent.
The fascination and mystery, the curiosity I remembered, were gone. Curious because Emma and Robert are in real life married to each other, but the vibes are not there, just coldness.
They play was inspired by Pinter's seven-year affair in the 1960s with Joan Bakewell, a BBC presenter. He was married at the time to actress Vivien Merchant and left her in 1975 after 20 years and one son. He married author Antonia Fraser in 1980. Was this play a mea culpa?
"Betrayal." Written by Harold Pinter; directed by Mike Nichols. Ethel Barrymore Theatre, 243 West 47th Street, New York City. (212) 239-6200. Opened Oct 27, 2013; closes Jan 5, 2014. 12/26/13. Review on New York Theatre-Wire.