By Lucy Komisar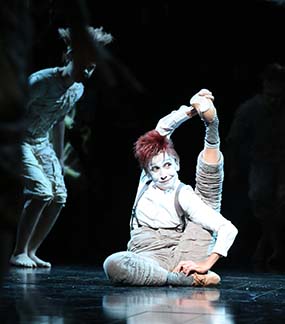 Julie Taymor's extravagant sets and staging gloriously overwhelm this production. A billowing sheet the size of the stage is lowered, and the brilliant Kathryn Hunter, who plays a red-headed Puck, drops through a middle opening. Scampering woodland animals – deer and foxes – wear heads that make one think "Lion King!"
Fairy Queen Titania (a charming Tina Benko) descends from the ceiling in white and glittery wings, complete with lights that make her truly ethereal. Candles flicker, jewels sparkle; there's never been a Fairy Queen who looked like this.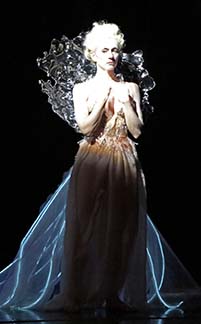 Hunter and Benko are the best of the cast, along with David Harewood, who plays King of Shadows Oberon, Titania's erstwhile consort, although they seem always to be clashing. He wears blue Arab style pantaloons with gold felt and gold stripes on his chest. His rich voice bespeaks his power. (Costumes are by Constance Hoffman.)
There's also a young foursome who deal with a mix of romantic desires. Demetrius (Zach Appelman) loves Hermia (Lily Englert) and is the choice of her father. However, Hermia loves Lysander (Jake Horowitz), and they plot to elope. Helena (Mandi Masden) loves Demetrius, but is out in the cold. Alas, none of these 18 or 20-somethings persuades you that he/she is from ancient Athens. Or that they are anything but a bunch of college kids.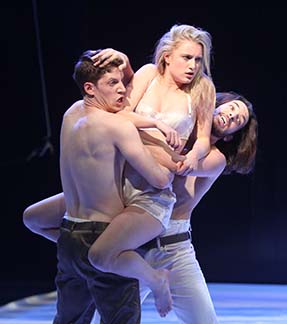 Masden as Helena is the best. On the other hand, they may speak to the college kids in the audience. So maybe that's the reason for the pillow fight, including soft missiles thrown by sprites from the balcony.
Oberon and Titania have been sparring, and at his pig-headed direction, Puck sprinkles fairy dust on the her eyes so she will love the first person she sees. Oberon notices Demetrius rejecting Helena and tells Puck to do the same to him.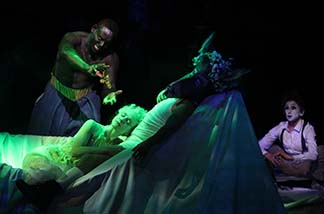 So the Fairy Queen awakes to see Nick Bottom (the excellent Max Casella, with a Brooklyn accent), a local workman who has just been turned into an ass. And Puck, picking the wrong guy, sprinkles the dust on Lysander. More confusion ensues. When Puck says, "Lord, what fools these mortals be!" she is mostly talking about men's fickleness. But forget about the plot, since in Shakespearean comedies, all gets straightened out in the end.
Think about Julie Taymor's inspired staging. Puck's bed is lifted on birch trees. We see psychedelic flowers, including a huge one that visually recreates an orgasm. There is a forest of metal sticks. Nymphs arrive blowing on wooden tubes.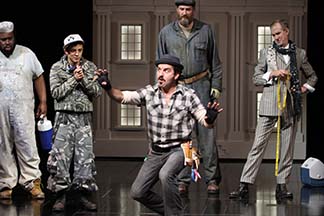 A charming, clever piece features "the rude mechanicals," workmen in common parlance, who are rehearsing a play for a royal wedding. Their garb includes a plaid shirt, white overalls, a tailor's striped suit. One has a Puerto Rican accent. Jacob Ming-Trent is very good as Tom Snout, who talks like a black preacher. It's Shakespeare's British classic transported to the U.S. And it's a transporting experience for audiences.
"A Midsummer Night's Dream." Written by William Shakespeare; directed by Julie Taymor; choreography by Brian Brooks. Theater for a New Audience, Polonsky Shakespeare Center, 262 Ashland Place, between Lafayette Avenue and Fulton Street, Fort Greene, Brooklyn. 866-811-4111. Opened Nov 2, 2013; closes Jan. 12, 2014. Running time: 2 hours 40 minutes. 12/26/13. Review on New York Theatre-Wire.