By Lucy Komisar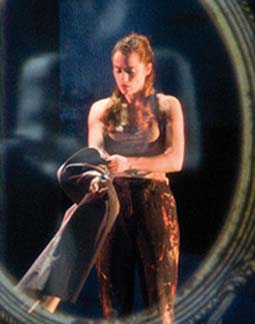 A young woman (Janine Thériault) is in her artist's studio lobbing red paint over black and white figures. A projected figure tells her, "It's obscene, you love everything morbid." It turn out it's her sister (Anne-Marie Cadieux). The comment turns out to be quite perceptive.
This projection/play by the Canadians Michel Lemieux and Victor Pilon is fascinating as an artistic piece, gorgeous as staging and projection. Unfortunately, the plot and text are rather silly. Perhaps it should have been done as a dance theater piece, without voices.
The story is inspired by the fairy tale "Beauty and the Beast." Beauty, La Belle, (Thériault) dreams of a beast (La Bªte, Vincent Leclerc), who turns into a man.
She wanders to his gothic castle, passing through steel gates to enter an imposing Cathedral-style hall, both created by wonderful projections by Lemieux and Pilon. She encounters the beast, who is distraught at having lost his lover.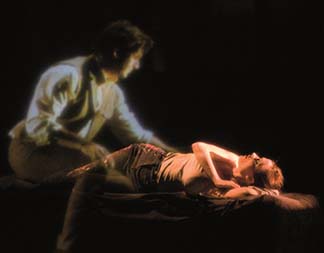 He gives her drugged tea. There is projected the image of a monster and a supine woman. He bangs a glass and shards fly on the stage and the theater walls.
The beast fights his projected demon (Peter James.)  A projected white horse charges through gates and walls. The plot also includes a vindictive jealous past lover, La Dame (Diane d'Aquila).
The violin music is lugubrious. It's all aesthetically enthralling. It makes me want to see another production by Lemieux and Pilon, but with a text that matches their artistry.
"La Belle et la Bªte," Created and written by Pierre Yves Lemieux; created and directed by Michel Lemieux and Victor Pilon. Brooklyn Academy of Music Opera House, 30 Lafayette Avenue, Brooklyn. Nov 21-23, 2013. A video clip. 12/25/13.