By Lucy Komisar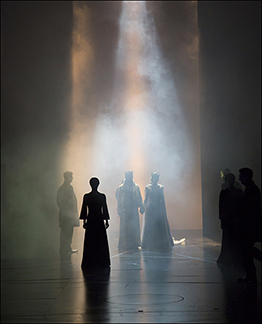 Jack O'Brien's staging of "Macbeth" at Lincoln Center puts the emphasis on "stage." The physical production is minimal and stunning, with high backdrop curtains painted with noble shields and lighting aimed like lasers at key figures or diffused to bathe actors in shadows. There is fine pageantry and music.
Unfortunately, Ethan Hawke, as the ruthless, power-hungry noble who seeks the throne of Scotland, forgets he is on a stage, where one needs presence, and not in the movies, where it's okay to be laid-back. Hawke speaks too low and too fast, and sometimes even mumbles. He appears timid, frightened, even distraught, with the demeanor of a drug addict.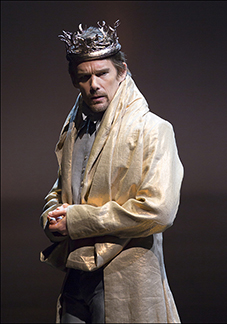 That means that on the shiny black circular stage he has no grandeur, which should be the requirement of a tragic figure. Instead, we get elegant cinematic moments. At one point the stage holds a table with a vase of roses. Silver paper covers the stairs and walkway that leads to King Duncan's room. Then Macbeth climbs the stairs, and the red petals fall as he is murdering Duncan (Richard Easton). It's gorgeous, but the drama is aesthetic. (The set is by Scott Pask.)
There's more Hollywood in the Macbeth-Lady Macbeth (Anne-Marie Duff) clinch, a funny eroticism.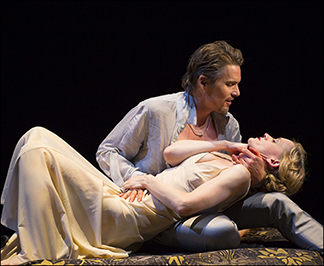 Duff, in a blonde chignon, wears fashion-magazine clothes which somehow clash with the armor plating of fighting troops, though some of the men's outfits, black pants and coats, soldier's garb of leather skirts and jackets with metal studs, might be couturier as well.
The color scheme is black and white, with a bit of blood red. After the killing Macbeth wears a red robe. (Costumes are by Catherine Zuber.)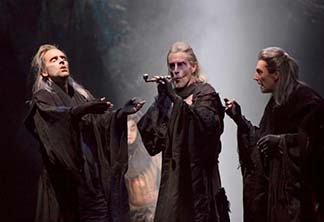 Fashion-plate aside – and her clothes would work at any Hollywood party — Duff is good in her guilt-driven mad scene, which she dominates. Other scenes are less engrossing, more filmic.
A highlight is the comic weird sisters, played by men (Malcolm Gets, John Glover, Byron Jennings) who cackle and giggle in a campy drag style.
O'Brien's choice of men is more accurate than casting them as women, which many directors have done. When the noble Banquo (Brian d'Arcy James) meets them, he says, "You should be women, and yet your beards forbid me to interpret that you are so." That's in the text, maybe an inside joke, since all the players in Shakespeare's time were men.
Daniel Sunjata is strong as the noble Maduff who opposes Macbeth, and Bianca Amato is excellent as his wife, who meets with a regal coolness and aplomb the killers Macbeth sends as retribution.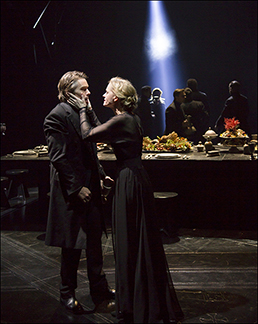 The banquet scene is excellently staged. Banquo's ghost appears as in a supernatural movie shrouded in a streaming white light at Macbeth's great dinner, which features servants bearing trays of cocktails and canapés and a wooden groaning board covered with platters of lobsters.
When, seeing the ghost, Macbeth leaves in horror, witches and harpies arrive to devour the feast. O'Brien also creates a splendid tableau of harpies at a smoking hole. Indeed, the visuals are terrific. One is curious about what power this director had over the performance of the Hollywood star, Hawke, who is the major disappointment of the production.
Macbeth." Written by William Shakespeare; directed by Jack O'Brien. Vivian Beaumont Theater at Lincoln Center, 150 W. 65 St., New York City. 212.239.6210. Text. Opened Nov 21, 2013; closes Jan 12, 2014. 12/27/13.