By Lucy Komisar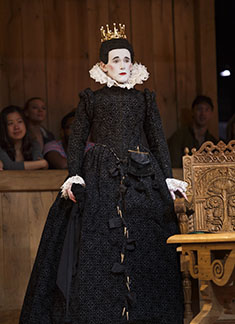 If you haven't seen Mark Rylance glide across the floor in fast tiny steps which, if it isn't a dancer's couru, makes you think he is on wheels, you have missed the funniest bit of stage business I can readily recall.
The exceptional Rylance, playing Olivia in this all-male production of Shakespeare's comedy of mistaken identities, gives a bravura performance, petulantly regal and flirtatious, a lady truly overwhelmed by love. You will never see the show without remembering him in the role. Though you don't for a minute believe that Rylance is a real woman. The casting makes the play a bit hokey, but still a lot of fun.
The object of Olivia's affections is the young woman, Viola (Samuel Barnett), who is disguised as a youth, "Cesario" — a man playing a woman playing a boy. And, to go gender-bending one further, she/he seeks service at the court of Duke Orsino as a eunuch. Barnett is luminous as Viola, who he plays as a bit distraught, but this side of camp. For examples, some words I didn't find in the text asked, "What is your parentage?" Viola/Cesario exclaims, "Oh, my God!" (You don't believe that Viola is a real woman, either.)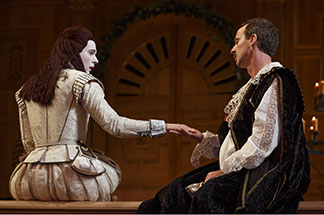 Viola is taken with the Duke and wears a priceless expression as she tells him that women are "as true of heart, as we." There's a subtle unforgettable moment when he puts his hand on his/her thigh and looks quizzical. Director Tim Carroll makes the most of the contemporary confusion about sexual identity.
Viola is half of another identity mix-up as the twin of Sebastian (Joseph Timms), who she believed drowned in a shipwreck when they were babes. He thought the same of her, as their rescuers took them to different Adriatic coastal towns.
But Sebastian has arrived in her current home, Illyria, with his servant Antonio (John Paul Connolly), and after they split up on errands, Antonio runs into Viola, now dressed as the boy Cesario, and takes her/him for Sebastian. It's even more interesting when Olivia takes Sebastian for Cesario, and he returns the affections that Viola/Cesario has been rejecting.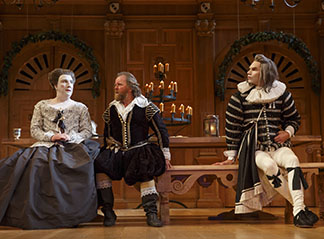 The supporting cast is very good, starting with Paul Chahidi as Olivia's gentlewoman Maria, a lady of myriad comic expressions, whose voluptuous fake bosom peaks abruptly out of her décolletage.
And continuing with Colin Hurley as Sir Toby Belch, splendid as Olivia's drunk, rudy-faced uncle, and Angus Wright as the scarecrow-like Andrew Aguecheek, who fancies himself Olivia's suitor.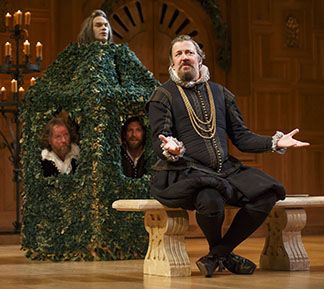 They engage in a plot against the pretentious Malvolio (Stephen Fry), the Queen's steward, which reduces the poor fellow to jelly, but they are hoist on their own petards when they take on Sebastian, who they think is the timid Cesario.
Some audience members have chosen to sit on stage on the double row of wood benches that copy the "standings" that were set up to hold playgoers at the sides of the halls at the lawyers' Inns of Court or the university colleges where Shakespeare's shows were produced when they weren't at the Globe. The stage also features sconces with tapers on chandeliers that descend from above. Musicians on a high walkway play instruments of the time, adding to the production's infectious charm. The design is by Jenny Tiramani and music by Claire van Kampen.
The verisimilitude of the staging is because the British production company, Shakespeare's Globe, presents plays in venues featuring the architecture for which the playwright wrote the original. Perhaps the venues of law courts and universities, in their uplifted modes, was appropriate. Shakespeare was quite a moral playwright, adept at tweaking audiences' prejudices, and this play, performed to distinction by Rylance and the others, is a delightful example.
"Twelfth Night." Written by William Shakespeare, directed by Tim Carroll. Belasco Theatre, 111 W. 44th St., New York City. 212-239-6200 or 800-447-7400. Opened Nov 10, 2013; closes Feb 16, 2014. 12/31/13.