By Lucy Komisar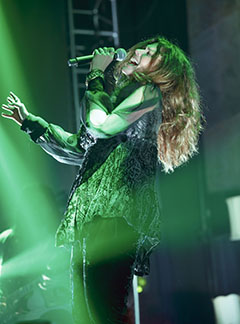 Let's start with saying that rock and roll was never my style, which favors jazz. That said, Mary Bridget Davies does an excellent job of channeling Janis Joplin, who took off as a rock star in the late 1960s.
She begins remembering her childhood in Fort Arthur, Texas, in an era where rock and roll, blues, R&B were flourishing, and takes us through her musical development, especially playing tribute to the singers who influenced her, Odetta, Bessie Smith, Nina Simone, Aretha Franklin, who are played by four black singers. (Interesting that the influences on this southern white women were all black.)
She does jazzy bluesy soul numbers. There's a lot of raw shrieking and screeching. (Also not my style.) Her hair is long and scraggly. She is the image of a struggling working class white.
Her back-up singers channel the best women of the time. Taprena Michelle Augustine is excellent as Bessie Smith. De'Adre Aziza does a good job as Odetta, and I liked Allison Blackwell as Aretha Franklin.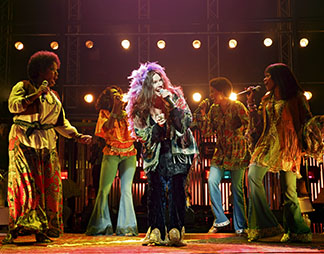 The focus on Joplin's artistry was an excellent choice by writer/director Randy Johnson. She swigs a bottle of Southern Comfort now and then, but this is not about a great artist's troubles, but about her creativity. As it should be.
Davies does the Joplin hits, a nasal "Me and Bobby McGree" and "Mercedes Benz." The audience claps and a few times stands up as they must have done in their glory days. (Most were in their 50s and 60s.)
Joplin, of course, died of a drug overdose at 27 and never grew old with her generation. For all I'm glad that this is her artistic story, I have to admit I'm curious about why such a talented, successful woman would destroy herself.
The only bad part of the production is a rotten sound system that made it seem as if you were hearing the music through mesh. Or maybe that resulted from being in the third row, far right, directly across from a giant speaker. Fortunately, I had the foresight to bring earplugs.
This show should go over big in Las Vegas. Move over Gladys Knight and the Pips.
"A Night with Janis Joplin." Written and directed by Randy Johnson. Lyceum Theatre, 149 W. 45th Street, New York City. 212-239-6200. Opened Oct 10, 2013. Review on New York Theatre-Wire.