By Lucy Komisar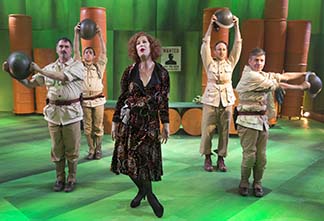 This early Brecht play, first staged in 1926, is disappointing. It presages some of the elements of his later works, especially the Mother Courage character who here is Widow Begbick (the good Justin Vivian Bond as a modern red head with a sinful low voice), who owns a beer wagon that follows the soldiers to serve up brew and herself.
And there are the soldiers, victims of imperialism, which has turned them into mindless fighting machines.
But though the elements are often engaging, due in large part to the colorful staging by Brian Kulick and the talent of the actors, the play somehow doesn't hold together.
The nuggets of Brecht's ideas, opposition to war and the stupidity and brutality of the imperialist military, are there. But it doesn't have the wit and sharpness of his later productions. It seemed forced and lacks subtlety.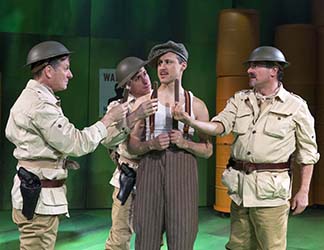 The story takes place in British colonial India. Men in a forest of oil drums topped with huge banana leaves are called to formation.
One of them has gotten his hair stuck in the door frame of   a Hindu temple and has a patch of it torn out. That marks him for an infraction, so he hasn't shown up. But his comrades have his identity book and they waylay the innocent Galy Gay (Gibson Frazier), a passing worker, to take his place.
Little by little, Galy Gay forgets what he was about (he'd gone out to buy a fish) and rejects his wife, who comes looking for him.
Colonialism is represented by the huge cardboard Ganesh in front of the Hindu Temple.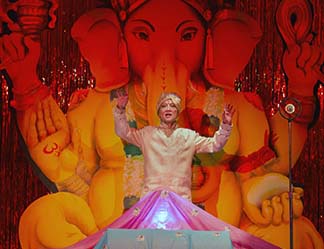 A sign says, "Meet the new god at the yellow pagoda," and the local Mr. Weng (Ching Valdes-Aran) is hawking grace for five rupees.
Brutality is represented by the commanding officer (a fine Stephen Spinella), who is known as Bloody Five for a murderous past achievement. He is the Widow Begbick's lover.
But the real issue is how to turn a simple worker into a military cog and killer. The soldiers assert, "Can we change a man into another?
Jesse: "Herr Brecht maintains a man's a man.
Polly: A view that has been around
Uriah: Since time began.
Jesse: But then Herr Brecht points out
Polly: How far one can go
Soldiers: To maneuver and manipulate the show.
Widow Begbick: Tonight a man will be reassembled just like a car."   Galy Gay will be transformed from a mild fellow to a cookie-cutout killer.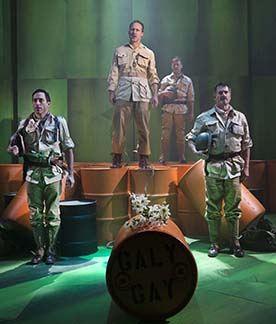 The men are ready to march wherever the Queen's army gives the word. "Seven thousand men can die and not a soul will bat an eye." They are off to a war in Tibet.
The politics of the play works, of course.
The actors are a fine ensemble. Duncan Sheik's original music attempts to capture the atonal mood of Kurt Weill, though it lacks a sharp edge.
This production is good for those who want to see all of Brecht's literary canon, but otherwise it gives only a hint of the masterworks to follow. Widow Begbick would appear in "Mahagonny," which he published in 1929, and the camp follower with a canteen would be "Mother Courage" ten years after that.
"A Man's a Man." Written by Berthold Brecht, directed by Brian Kulick, music by Duncan Sheik. Classic Stage Company, 136 East 13th Street, New York City. 212-677-4210 x10. Opened Jan 10, 2014; closes Feb 16, 2014. (2/4/14) Review on NY Theatre Wire.