By Lucy Komisar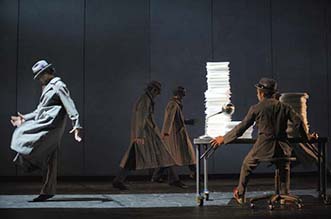 This political circus is quite out of the ordinary. It is in the tradition of the great political clown, Charlie Chaplin. "Cirkopolis," by Cirque ‰loize of Montreal, is a commentary on the metropolis that is filled with political symbolism. Call it a circus for our times.
The twelve performers are acrobats, contortionists and jugglers, but instead of familiar circus space, they inhabit offices and factories. The decorative themes are gray clothes and cogs and wheels representing the soul-destroying place of modern work. We see Greek statues — uplifting culture — and, behind them, the cogs and wheels of a factory — dreary reality.
A man in a gray suit and hat sits in an office and stamps papers. Then he takes one and crumples it and, in despair, throws it into the trash. Another man comes with a higher stack of papers for him to process. And then another.
As if a person himself transformed, out of the trash emerges a paper puppet, who picks up papers and hurls them away.
A video projection becomes a minimalist city-scape, a city on wheels turning like Chaplin's "Modern Times." Men in trench coats and fedoras walk and march and dance as automatons. They hold and wave papers.
In this space, Angelica Bongiovonni in a red dress twists inside a turning hoop, and men turn on the German wheel, the cog and wheel of factory machines. The sounds are the loud noises of a factory. The music throbs, dark and pulsating with the hammers of drums and sticks. Sometimes it get jazzy, a background to office workers dancing on rolling office chairs. The sounds are by Stéfan Boucher.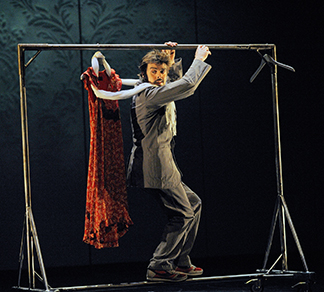 A clown (Athley Carr) provides a charming interlude as he flirts with a dress on a coat rack. Three women in red dresses appear, the gray of their lives liberated with colors.
But the women are shown in sexist roles as the playthings of the men. That doesn't seem a deliberate comment of the directors, just the way they wanted to use attractive women! Maybe next time their sensitivity will extend to sexism.
"Cirkopolis" by Cirque ‰loize. Directed by Jeannot Painchaud and Dave St-Pierre; choreographed by St-Pierre. NYU Skirball Center, 566 LaGuardia Place, south of Washington Square, New York City. 212-352-3101   or   866-811-4111. Opened Dec 19, 2013; closed Jan 5, 2014. (2/3/14)