By Lucy Komisar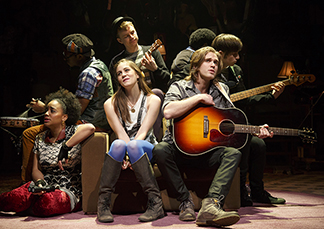 I don't like modern pop/rock music; it lacks musicality. But this hip-schmaltzy staging of work that Burt Bacharach wrote from the late 1950s through the 1980s makes one take another look at the new inflections.
It features multi-talented 20- and 30-something performers playing, singing and circulating in a production that is infectious and charming.
The set conjures up a pawn shop, with instruments hanging on the back wall. Some audience members sit on couches on the sides of the stage. In the dark, lamps glimmer, flashing on and off. (The designers are Christine Jones and Brett J. Banakis.)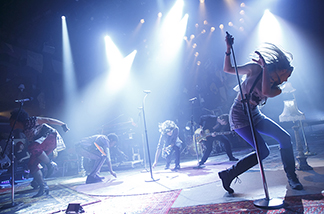 The performers hold guitars or a ukulele or stand at keyboard and drums. Sometimes they are on couches attached high on the back wall. It's funny to hear the lugubrious sound of a bass coming from half-way up the wall.
At times, the players move and shift on a round turntable. There's not a static moment. Director Steven Hoggett created the vibrant, imaginative staging.
The musical arrangements, taking Bacharach into the present, are by Kyle Riabko. His idea, conceived with David Lane Seltzer, was smart. I don't like his high-pitched voice which gets better at the end when he affects a normal baritone, and I could have skipped his self-important introduction.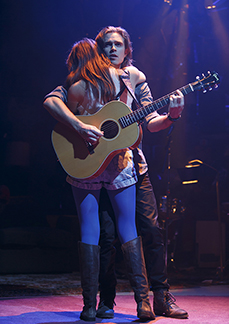 I also didn't like a bit where Laura Dreyfuss has a guitar on her back and instead of her playing it, Riabko embraces her and plays guitar around her back. As if she were an object attached to the instrument. Nothing modern about sexism!
That said, fans of when music was musical will like this show. And maybe even appreciate the modern riffs on "Do You Know the Way to San José," "I Say a Little Prayer," "The Look of Love," "Magic Moments," "Raindrops Keep Falling On My Head," "That's What Friends Are For," "Always Something There to Remind Me," "This Guy's in Love With You," "Trains and Boats and Planes," "Walk on By," "What the World Needs Now is Love," "What's New Pussycat," and a very comic "I'll Never Fall in Love Again."
Did Bacharach really write all that! It makes you esteem him all over again. The audience was of his generation, so it's up to Riabko and his group to proselytize a younger set.
"What's It All About? Bacharach Reimagined." Conceived by Kyle Riabko and David Lane Seltzer; music by Burt Bacharach, lyrics by Hal David and others; musical arrangements by Kyle Riabko; directed by Steven Hoggett. New York Theatre Workshop, 79 East 4th Street, New York City. 212-460-5475. Opened Dec 5, 2013; closes Feb 16, 2014. (2/3/14) Review on NY Theatre Wire.