By Lucy Komisar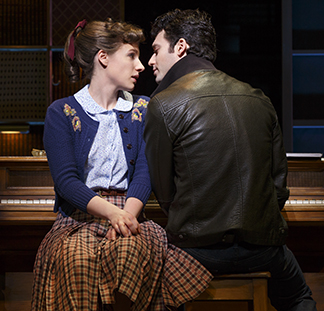 Clever, charming, sometimes funny, this show is always schmaltzy and delightful. I should connect to Carole King, since we both went to Queens College in the early 60s, but I admit I didn't know her then. Maybe she was one of the arty folks who hung out in the small cafeteria. Like Paul Simon.
But I connect now! King was an icon of her time, getting past the limitations set for her (˜be a teacher,' said her mom), reflecting women's desires and hurts, and then great talents. The play is fascinating not only as King's story, but as a look into the status of women and the music business of the time.
By the way, she began as Carole Klein and quickly changed to King. Bobby Zimmerman changed his last name to Dylan. Other Jewish performers also took Anglo names.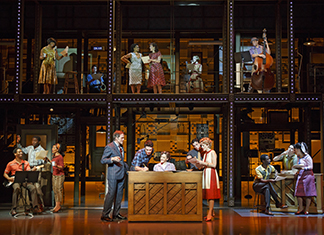 King started at a time of hokey romantic ballads. Star Jessie Mueller, who channels her superbly, is striking in works such as "Take Good Care of My Baby" and "Will You Love Me Tomorrow." King wrote them with Gerry Goffin (Jake Epstein), her psychologically fragile husband, who she met at college and who penned the lyrics to her music. They expressed early 60s female angst, which sold a lot of discs.
The production by director Marc Bruni and set designer Derek McLane establishes the corporate culture of the music business. It's a factory that looks like a two-tier erector set. It is presided over by Don Kirshner (Jeb Brown), one of New York's top record executives, who used it to drive his writers and performers to the top, sometimes setting them in competition against each other.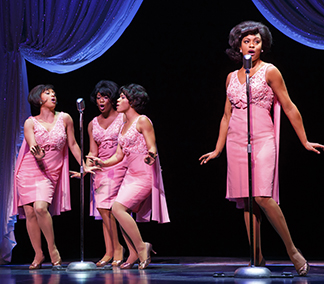 The show is a reprise of the 60s, with near-nonsense songs such as "Be-Bop-A-Lula" and "The Locomotion." And big groups such as the Shirelles ("Will You Love Me Tomorrow") and the Drifters ("Up on the Roof" and "On Broadway,") who sang King's songs. Interesting that a white woman's music was performed by black groups. Maybe the white groups were too white bread.
As time passes, Gerry wants more serious lyrics, darker, not the fluffy love stuff. King goes there. And the sounds get rougher, with the addition of an electric guitar. (Mueller's piano playing is as good as her singing, which is very good.)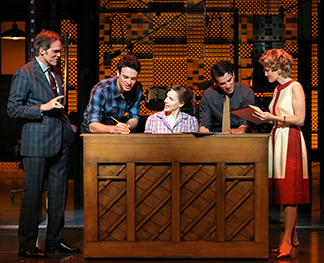 The other song-writing couple, who are first rivals and then good friends of King and Goffin, are the jazzy Cynthia Weil (Anika Larsen) and Barry Mann (Jarrod Spector). Weil is a tough character who fears giving up her freedom in marriage. She finally agrees to live with Barry, who jests, "We're moving in together as part of our audition for marriage."
Director Marc Bruni works the songs by King and Goffin and by Mann and Weil effectively into Douglas McGrath's script. We get enough of the story, which has a lot to do with her straying husband, to understand her life and enough music to appreciate her art.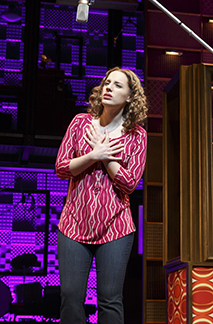 King did not start out singing her songs. We see her perform, hesitantly, at "The Bitter End" in Greenwich Village where she'd been invited by a musician colleague. By the time she becomes a singer as well as a song writer (and ditches her faithless husband), her conservatively cut hair is long and in tight corkscrew curls, and her voice has an inflection that seems part southern country.
At 28, she decamps with two daughters for Los Angeles. There she records her major hit, "Natural Woman," a serious girl song that assures her path to world stardom. She performs at Carnegie Hall. Not bad for a little girl from Queens College.
"Beautiful: The Carole King Musical." Book by Douglas McGrath, words and music by Gerry Goffin & Carole King, Barry Mann & Cynthia Weil, directed by Marc Bruni, choreographed by Josh Price. Stephen Sondheim Theatre, 124 W. 43 Street (between Broadway and 6th Avenue). 212-239-6200 or 800-432-7250. Opened Jan 12, 2014. 3/22/14