The greeting is "Meine Damen und Damen." In German, it means "My ladies and ladies." Amaluna in Latin means mother and moon. Clearly this is a woman's show, by and about women. There's even a moon goddess.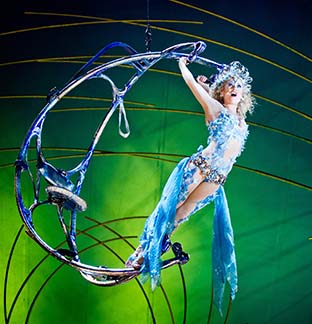 It's not feminist in the sense it has a political message.
But showing women circus performers in roles other than their bodies being tossed around by men is certainly feminist and very welcome.
Comparing this to other Cirque du Soleil production's I've seen, the distinction was that the women exhibited grace above proficiency in tricks. They are aerialists, trapeze artists, acrobats, tumblers, balancers.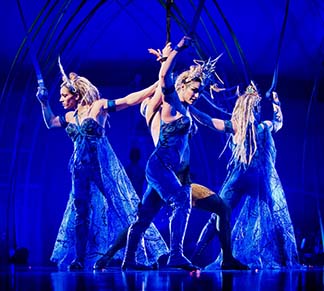 The best guy was Viktor Kee, a juggler with a lizard's tail that he flicked around expertly.
Lili Chao, who balanced precariously on the edge of a huge glass bowl, also swam in it. I didn't know what that was about.
The only part I didn't like – and I never like this in Cirque du Soleil productions – was the clowns. The female clowns were no less unfunny than the usual male clowns. Is this something about French Canadians, or what? A bit about a woman in a baby carriage undergoing labor and giving birth to a bunch of footballs was especially silly.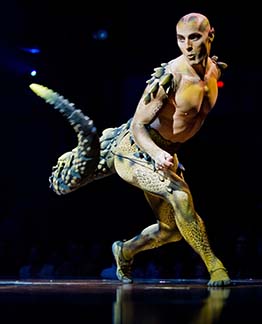 Postscript: I read later that the "plot," to the extent there is one, was inspired by Shakespeare's "The Tempest." Oh, the huge water bowl was the sea. But it didn't say that to me. And without a scorecard (appropriate for Citifield) or a written program, it might have been anyone's guess. Why weren't audience members informed?
But, if you like elegant acrobatics, especially as performed by women, this is a good show. Very good.
"Amaluna." Creative Direction by Fernand Rainville; directed by Diane Paulus. CitiField in Queens, at the Willets stop of the 7 train. 800 450-1480. Opened March 27, 2014; closes May 18 2014. 4/28/14.   Review on New York Theatre Wire.