By Lucy Komisar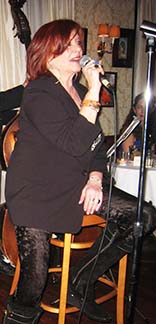 Cabaret singer/song-writer Bonnie Lee Sanders is fanciful and moody.   She begins rather optimistically at the second-floor cabaret at Pescatore on Second Avenue singing "Spring is Here," but then moves into musical angst, of loves that are gone.
She creates an ambiance with songs you haven't heard before. They are dark, sometimes French. Of course, you note a Piaff inspiration.
Sanders is inventive, not slick or predictable.  I especially liked her "My Tommy, My Bobby And Me" and "Broadway Moon"  – both her own smart lyrics
She is good at adding accents to create an attitude. She does a nice bit of Billy Holiday with a slightly southern inflection and brings a western nuance to her nostalgic "Old Montauk," about the east end of Long Island.
Comin' home from work at night
Feelin' tired and uptight
'Cause the city pace just knocks me off my feet
And the sky is out of sight
Can't tell if it's day or night
All hemmed in by towers of steel and cold concrete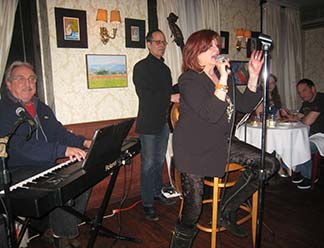 That's when I dream of old Montauk
100 miles from New York
Where the sea-swept cliffs at dawn
Make me feel I'm bein' born
As the sun begins to drench the rock-bound beach
And the air is damp with spray
As the sea gulls greet the day
Montauk, it's the place I want to be
In another mood, her "Fever" is jazzy and sultry, with a touch of sweet elegance.
Smooth accompaniment is provided by Tom Spahn at keyboard and Bob Desjardins  on bass.
The cabaret occurs above the main room of Pescatore, an Italian restaurant on Second Avenue at 51st Street.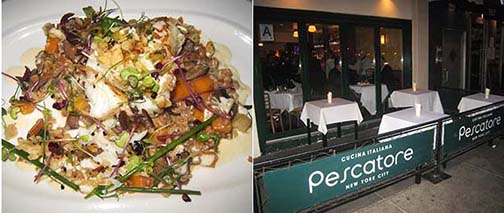 I liked the Chilean sea bass delicately set on a bed of Farro, which is similar to lentils. And the Orvieto was perfect, fruity. It's so nice to get wine by the glass beyond the by-now boring selections every restaurant offers.
Nothing was boring about this evening.
About Bonnie Lee Sanders
Sanders sings on various Tuesdays at 8pm at
Pescatore
955 2nd Ave, New York City (at 51st Street)
(212) 752 – 7151; reservations recommended for the cabaret.