By Lucy Komisar
The Stolen Chair Company did last year's brilliant (and Drama Desk nominated) production, "The Man Who Laughs." So it is no surprise that this season's offering is a supremely inventive and clever site-specific production at a Soho bar. It takes place in the People Lounge on Allen Street south of Delancey. The admission includes three very exotic, interesting, tasty cocktails!
But more than that, the production is an intimate look – from a fly-on-the-wall vantage point – of what happens at a bar among the owners, bartender and patrons, especially regarding their romantic desires and connections.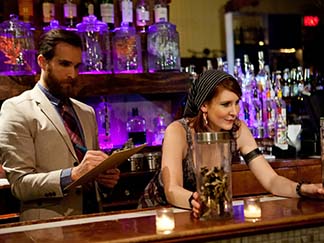 Since the Stolen Chair Company is never ordinary, the dialogue is done as non-musical opera. That means that the text is spoken, not sung, but it's said in cadences, in duets and pieces for four, characters speaking over each other as if they would do singing opera. And the pieces and cadences are based on real operas. Quite extraordinary!
The place is Charley's Potion Lounge Speakeasy. Patrons are seated at low seats along the walls opposite a real bar.

The founder and owner, Charley/Charlotte (Natalie Hegg), is dressed gypsy style with a too-low-cut top. Turns out she is in love with her business partner, Tom (Raife Baker).
The bartender Jim (Noah Schultz), with a Dali moustache, is ready to deal with patrons' problems (but not those of his bosses).
The plot is a bit like a bar-scene soap opera, but much more immediate, up-close, and more diverting. The cast is first-rate. Collaborators Rikhye and Stancato create an utterly realistic mood.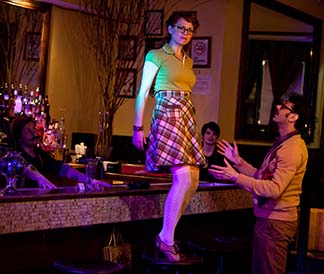 Andi (Liz Eckert) an unhappy character who doesn't like anybody, arrives and soon tells all that "humanity is pitiful." Jim says, "You hate us, but come here…" Andi: "Because you allow me a minute or two of relief."
It's a reality show, like overhearing a bar conversation. Emma (Molly O'Neill), a patron, says, "I don't think I've found who I am." Charley replies, "We can make you whoever you please." Charley says, "Everyone wants to change something."
There's also interaction among the staff, especially between Charley, who hides her affection for Tom behind business talk. "Charlotte why do we have ten crates of lychee nuts?" She: "They were such a bargain."
Patrons come in. A guy, Philip (David Skeist) comes on to Andi, hitting on her.
Ed Forth (Jon Forehlich) a health inspector, suggesting he might give the place a bad report, wants a drink potion that makes women fall in love with him.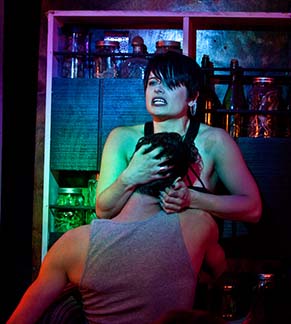 There's   also the magic of the cocktails that are served through the evening, with labels such as "Curiosity." They are, we are told, potions that affect how you are. Charley says, "Our drinks intoxicate but do much more."
The bar is a drinks hall of mirrors that takes peoples' traits and problems and magnifies them. Philip and Andi have a hot interaction that moves through the bar salon/audience.
Patrons get to sample drinks called "Curiosity," "Pins   Needles," and "Love Potion. It's all indeed quite intoxicating.
"Potion, a play in 3 cocktails." Conceived by Kiran Rikhye and Jon Stancato; written by Rikhye, directed by Stancato. Stolen Chair at People Lounge, 163 Allen Street (south of Delancey Street; F train to 2nd Avenue stop; Allen is a continuation of First Avenue, so take First Avenue exit.) Live music by Sean Cronin; cocktails by Mixologist Marlo Gamora. Sundays at 7pm. 212-868-4444. The bar is small, so reservations online or by phone recommended. 4/15/14. Review on New York Theatre Wire.
The cocktails are "Curiosity": rye, cynar, lemon juice, honey, lemon twist; "Pins & Needles": mescal, ginger beer, green chartreuse, lime juice, chili salt rim, lime twist, and "Love Potion": lambrusco, gin, absinthe, syrup, lemon juice, lemon twist.