By Lucy Komisar
Desperate, full of hope and dreams, wracked by despair, succored by religion, the members of the Younger family spill their humanity in various ways in Lorraine Hansberry's 1959 play about a black family's struggle. The work is based on the experience of her own family, who moved to a white Chicago neighborhood, was attacked by neighbors, and won a 1940 Supreme Court decision ruling restrictive covenants – agreements not to rent to blacks – illegal.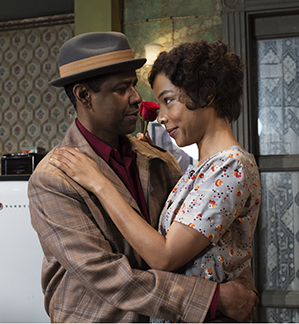 Kenny Leon's smart direction elevates to realism what might have been sentimentality and melodrama. The story is gripping and richly presented.
Walter Younger, a brilliant Denzel Washington, animated by conflicting hope and anger, at 40 is a chauffeur for a rich white man. His wife Ruth (Sophie Okone) dour, with a mournful expression, works as a house maid. Okone plays her as rather flat, quietly accepting her lot, though saddened by Walter's despair.
Married 11 years, they live in a cramped two-bedroom South Side Chicago apartment with his mother Lena (LaTanya Richardson Jackson), his sister Beneatha (Anika Noni Rose) and his son Travis (Bryce Clyde Jenkin). Lena and Beneatha take the second bedroom, and Travis sleeps on the living room couch. It's humiliating that they have to race to use the hall bathroom shared by another family.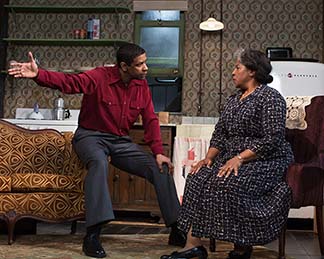 Lena, given a warm and tough portrayal by Jackson, had dreams of owning a house, and she thinks that could happen with the $10,000 she is getting from her late husband's insurance. But Walter wants cash to finance a liquor store with some partners, a way to a life with some dignity.
We see a new generation in college student Beneatha, a very lively, vivacious Anika Noni Rose, who wants to be a doctor. She rejects George (Jason Dirden) a rich boy who puts her down with sexist comments: "You're a nice looking girl. That is all you need. I want a nice simple sophisticated girl." Army candy. Hansberry was a conscious feminist.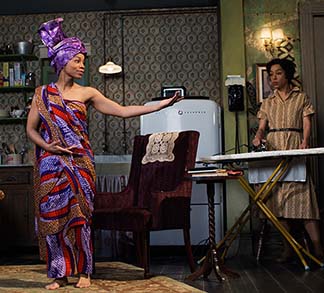 Beneatha prefers Joseph Asagai (Sean Patrick Thomas), a Nigerian who wants to play a role in his country. Prescient, writing before the mass decolonization of Africa that began about that time, Hansberry has the young woman say, "What about the crooks and thieves who will come into power?" and "there's no progress, just a circle." The charming Rose does a marvelous Nigerian dance in African dress.
Representing the old life, Lena slaps her modern daughter for rejecting God. Jackson gives you the feeling that Lena could wrap the world in her arms and succor it. She does that for her family by putting a $3,000 down payment on a house in a white neighborhood, Clybourne Park. (Hansberry's family had moved to Washington Park.)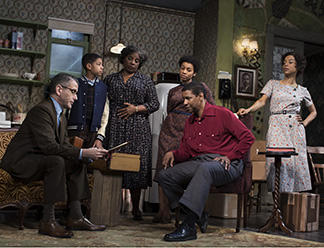 Trouble comes when Karl Lindner (David Cromer) arrives representing a white home-owners group. In a smarmy fashion, he tells the Youngers that they really wouldn't be comfortable in Clybourne Park. And he offers to buy them out, at a profit. They refuse.
Denzel performs a gripping scene when, believing he'll never get any of the insurance money for a stake, he gets drunk and, back home, twists and turns in a rubbery body language and verbal sarcasm that explodes his anguish. Lena, seeing her son burning up inside, gives him half the remaining cash and says to put the rest in the bank for Beneatha's medical school.
Walter, of course, is a fool with dreams based on fantasy. You know he will fail; his first bad judgment was choosing a crooked collaborator. To deal with that disaster, the family calls Lindner back to discuss his offer. Hansberry challenges them to take a stand for their future – as her own family did.
"A Raisin in the Sun." Written by Lorraine Hansberry, directed by Kenny Leon. Ethel Barrymore theatre, 243 West 47th Street, New York City. (212) 239-6200. Opened April 3, 2014; closes June 15. Running time: 2 hours 40 minutes. 6/5/14.