By Lucy Komisar
 There's nothing like providing a sense of place by starting out a play in Italian when the director has set it in Sicily. Don't worry, the dialogue switches to Shakespeare's English soon enough. But Jack O'Brien's touches do a lot to mix fantasy with reality. Like the vegetable garden where Beatrice (Lilly Rabe) and Benedick (Hamish Linklater) meet. And where he picks a carrot to munch on. (And there are some nice looking tomatoes.)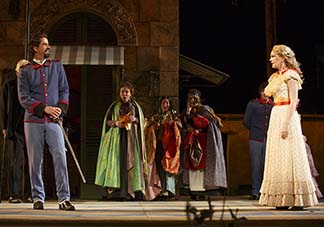 There is also a stone villa that belongs to Leonato (John Glover), the governor of Messina, circa 1900, with an orange tree and white wrought iron tables and chairs. As the Delacorte stage is in the middle of Central Park, the set blends in nicely. (Scenic design is by John Lee Beatty.)
It is a charming, peaceful background for the furious emotions expressed by our star-forced-together Beatrice and Benedick who are pushed and pulled toward each other against loud protestations. (I'll get to the feminist assertion later.)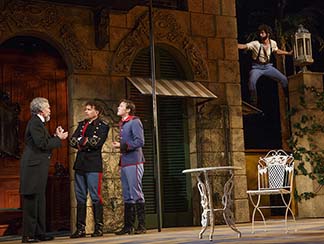 Benedick, a soldier, has come back from battle, where he fought under Don Pedro (Brian Stokes Mitchell). So now ought to be the time to enjoy family life.
The orange tree is the perfect place for Benedick to hide while Leonato and co-plotters good-naturedly scheme to get the two together.
They chat about how much Beatrice loves Benedick, all the while knowing that fellow is listening from the tree. O'Brien hams it up nicely, having Linklater climb on a villa balcony and in shock drop the dead rabbit he has been carrying.
Leonato's daughter Hero (Ismenia Mendes) and co-conspirators target Beatrice, who is (supposedly) hidden under a garden table, declaring how much Benedick cares for that lady.
Rabe is smart and sassy as the cynical Beatrice, and Linklater plays Benedick as slightly foolish – a rather sweet man who doesn't seem able to have raised so much ire in the lady. But charming, nonetheless.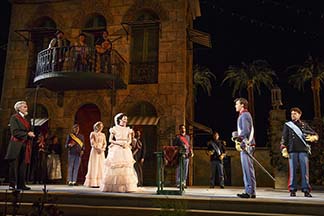 The other couple, Hero and Claudio (Jack Cutmore-Scott), also a returning soldier, are a bit bland compared to Beatrice and Benedick. Cutmore-Scott plays the soldier as rather shy, not what one expects to see in a military guy.
Hero and Claudio become the targets of Don Pedro's bad "bastard" (that's the text) brother, Don John (Pedro Pascal), who is nicely disdainful and villainous. John plots to make Claudio believe that Hero is having secret nighttime assignations with another man. So he denounces her at their wedding.
I love Shakespeare's feminist dialogue, having Leonato say, "By my troth, niece, thou wilt never get thee a husband, if thou be so shrewd of thy tongue."
And she answers, "Just, if he send me no husband; for the which blessing I am at him upon my knees every morning and evening."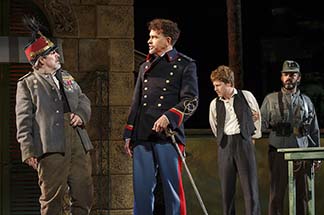 When Leonato asks, "Well, then, go you into hell?," she replies, that no, she'll go "to Saint Peter for the heavens; he shows me where the bachelors sit, and there live we as merry as the day is long." And you know Beatrice means it.
The men are pretty stupid, Benedick nicely so, Claudio a jerk, Leonato, who also denounces Hero, not much better. Don Pedro, in spite of being played by Mitchell, doesn't have a lot of presence. And then there is the evil Don John and his collaborators. When you think about it, the women are pretty smart, except Hero's ladies maid Margaret (Zo« Winters) who is used in Don John's scam. Otherwise, think about it.
A nice performance by John Pankow as Dogberry the constable, the Bard's typical comic relief who trips over his words and the corrupt reality he has seen.
There's lots of lovely schmaltz, with accordion and violins, blue uniforms with red stripes, caps and sabers. It was a lovely evening at the Delacorte.
"Much Ado About Nothing." Written by William Shakespeare, directed by Jack O'Brien. Delacorte Theater in Central Park, entrance Central Park West & 81st Street.   General Info: 212.539.8500, Taub Box Office: 212.967.7555 (10am – 7pm daily, closed July 4th) Opened June 16, 2014, closes July 6, 2014. 6/30/14.