By Lucy Komisar
This is a gorgeous, moving play by Terry Teachout, who we know as the theater critic for the Wall Street Journal, but who is obviously a cut above most of the playwrights he reviews.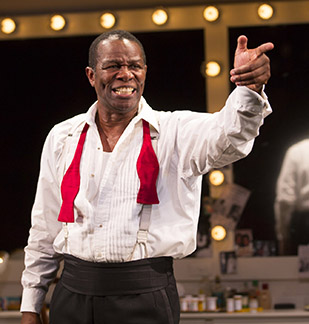 It's helped, of course, by the brilliant performance of John Douglas Thompson, an accomplished Shakespearean actor. Thompson is known for a memorable Othello as well as the title character of Eugene O'Neill's "Emperor Jones."
Thompson plays two characters, the performer Louis Armstrong and his agent, Joe Glaser. Armstrong, like Thompson, of course is black. Glaser is Jewish. Thompson shifts seamlessly between the two. Thompson does a great tough New York-accented Glaser.
The story moves back in time from 1971 when Armstrong is waiting in his dressing room to go on at the Waldorf in New York. The dressing room has bright light bulbs and a large recorder. But it's not a musical play. It's a drama about a gifted musician who had to maneuver through the world of segregation and racism.
Armstrong's life was filled with unhappy drama. He had a tough childhood with a mother who had few life choices and picked the worst. His success is partly owed to agent Glaser, who managed him for 40 years – but who never invited him to his home. Armstrong played hotels he couldn't sleep in. But he also cracked the color line at some of the big ones.
We hear the story of "Hello, Dolly," which made Satchmo (it means satchel mouth) probably the most famous black performer in America. We also discover that Glaser had a statutory rape charge the Al Capone mob unearthed and used to get a piece of his business.
Director Gordon Edelstein knows how to present the drama low key. No hokey stuff here. If you care about American jazz, and the hidden drama behind some of it, it's a play you have to see.
"Satchmo at the Waldorf." Written by Terry Teachout, directed by Gordon Edelstein. Westside Theatre, 407 West 43 Street, New York. 212-239-6200. Opened March 4, 2014; closes June 29, 2014. 6/16/14. Review on New York Theatre-Wire.