By Lucy Komisar
This is Jefferson Mays' show from start to finish, and he is brilliant in it. It's a smart clever musical with definite anti-aristocratic politics. A fantasy moment when so many of us are trying to figure out how to get rid of the bad guys.
The story was told in the 1949 British film "Kind Hearts and Coronets" starring Alec Guinness. That was based on the 1907 novel "Israel Rank: the Autobiography of a Criminal" by Roy Horniman.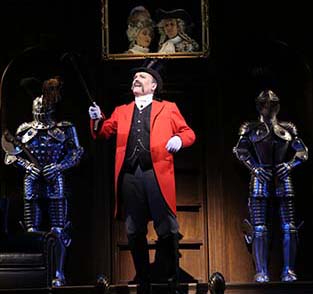 It seems that a relative way down the line of a British (minor) noble family, the D'Ysquiths, would like to inherit the gorgeous ancestral estate, complete with standing suits of armor and all that goes with it. (Read castle, framed portraits of forebears, long wooden dining tables, servants, etc.) And he figures that the only way to do that is to kill off everyone preceding him in line.
A personal version of contemporary cut-throat capitalism, no? And probably close to how those aristocrats got their wealth in the first place. Remember the British enclosures of the 1600s when peasants were forced off communal lands by nobles who wanted to graze sheep? This is as fresh and clever as if it were written yesterday. Or today if you consider it a metaphor. Book and lyrics are by Robert L. Freedman, music and lyrics by Steven Lutvak. Director Darko Tresnjak finds just the right place between tongue-in-cheek and outrageous.
The story is presented as a British prison mystery. But a shirred red satin curtain dropping to the stage emphasizes that this is a music hall/vaudeville melodrama circa the early 1900s.
Mays plays every one of the D'Ysquiths! He is so good that you might not realize it. The person who accompanied me to the play had neglected to look at the Playbill that lists him in eight roles and didn't have a clue to the mystery!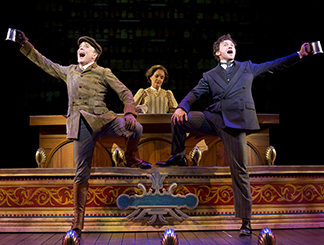 It's London 1909.   Lord Adalbert D'Ysquith in red coat and top hat declaims, "I don't understand the poor…We extend them too much latitude." And he (or some other D'Ysquith) carries on about "leaving the riffraff behind us." These self-important minor nobles are so outrageous that you can't feel too much sympathy when they are imaginatively disposed of.
Henry D'Ysquith, who foreclosed on the land of a farmer, does a show-stopper with a grin and a stutter that declares, "It's better with a man." Not necessarily sex, just the camaraderie with his drinking buddies."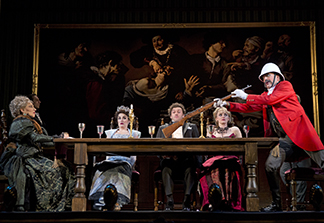 There's one family member that May doesn't play, Sister Phoebe D'Ysquith, excellently portrayed by Lauren Worsham with a soprano that reaches opera-quality high notes.
Catherine Walker as Miss Barley ,who meets her D'Ysquith at a winter resort, also has a charming soprano. Mays has a very good baritone. The cast is superb in every way.
To underline how current the story is, Lady Hyacinth D'Ysquith runs a school for the ragged, under the slogan "Unite for imbeciles and idiots." The super-rich just love to throw a few coins at the most miserable they can find!
There is some love interest, of course, with our hero dealing with two ladies who would like to snare him. A clever diversion.
The projections of Aaron Rhyne add to the excitement. Think of Rev. Lord Ezekial D'Ysquith falling down a high church circular staircase. The sets are by Alexander Dodge.
"A Gentleman's Guide to Love and Murder." Book and lyrics by Robert L. Freedman; music and lyrics by Steven Lutvak; based on a novel by Roy Horniman; directed by Darko Tresnjak; choreography by Peggy Hickey. Walter Kerr Theater, 219 West 48th Street, New York City. 212-239-6200,   Running time 2:20 hrs. Opened Nov 17, 2013. 3/23/14.