By Lucy Komisar
Plays usually depend upon dialogue. In ˜riverrun,' adapted from James Joyce's 1939 novel Finnegan's Wake, Irish actor Olwen Fouéré is the river Liffey. Fouéré's text is inspired by the dialogue of Anna Livia Plurabelle, who represents the river in the final section of Joyce's "book of the night." However,   the text is mostly impenetrable, sometimes a joke on the reader, which of course is typically Joycean.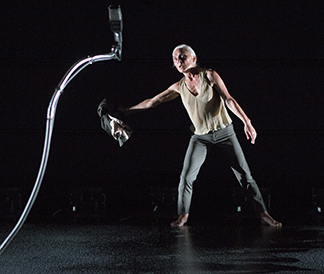 Fortunately, in this production, the words are less important than the movement and the sounds. Fouéré presents a choreographed soundscape which displays her exceptional talents.
She is barefoot in a slim gray pants suit, white hair in a ponytail. She blows into the microphone to create the sound of waves. She shouts furiously or whispers or whistles the tune of "Tipperary." It all represents the entire substance of a life's living — shouts and whispers.
She moves as in a dance, pulling ropes as a fisherman or twisting her body as wind. She swims underwater, cheeks full like a fish. She twists and swings a jacket that suddenly seems as silvery as waves.
Still, it's frustrating to hear an hour of dialogue of which you understand only about 15 percent. I did get a line about "the regeneration of all man by affusion of water. Yee." And a few others. For the rest, the play is mood.
Fouéré gives an admirable performance. You almost get past the fact you have missed most of what Joyce might have said!
"riverrun. Adapted, directed, and performed by Olwen Fouéré. Co-directed by Kellie Hughes. Sound design and composition by Alma Kelliher. BAM Fisher, 321 Ashland Place (around the corner from BAM Opera House). 718 636-4100. Opened Sept 17, closes Sept. 20, 2014. 9/18/14.
The text of the novel.