By Lucy Komisar
Take a trip back to Berlin circa 1930. Inside a cabaret, red lamps light round black tables, a waiter brings wine and food for you, and scantily clad musicians play jazzy music. It's a charming evening for a sophisticated audience – or is it?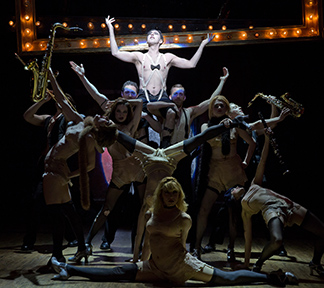 The decadence is represented by the master of ceremonies (Alan Cumming), who is in-your-face crude, sexual, raunchy, almost elegantly so with his white face, glinty eyes and red lips, white suspenders pulled over a nude chest and twisted around his crotch, nipples colored red. He has a German accent.
Cumming is excellent and chilling in the role, which he created in 1998 and which is smartly directed by Sam Mendes. The memorable songs were written by John Kander (music) and Fred Ebb (lyrics). Orchestra seats set up as cabaret tables pull you into the drama. If you see one musical these days, make it this one.
Dancers sing Wilkommen (welcome). And everyone is. Into the cabaret comes Clifford Bradshaw (Bill Hecht), an American arriving in Berlin to work on a novel. At the Berlin train station, he had met Ernst Ludwig, a German who offered him to way to make some money. He just has to deliver a briefcase. Ludwig is a Nazi. He referred Bradshaw to Fräulein Schneider's boarding house.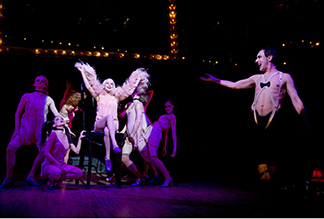 At the club for diversion, Bradshaw meets Sally Bowles (Michelle Williams), 19, an American singer who is not very sure of herself or her future, and is sleeping with the club owner who can help her career.
As Bradshaw appears to be bi-sexual (as was Isherwood, who wrote the stories on which this is based), he turns out to be more than a good friend to Sally when she needs a place to stay. Hecht is fine as the cool American. Williams' voice is rich and sexy, but she is rather bland and too wholesomely blonde as Sally. She makes you wish for Liza Minnelli, who did the movie role.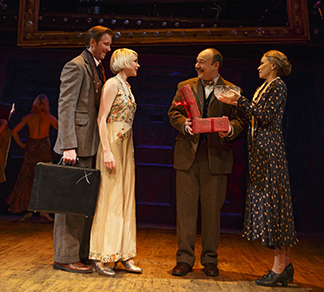 Fräulein Schneider (a very good Linda Edmond) is keeping company with Herr Shultz (the excellent Danny Burstein), a Jewish fruit vendor. Also at her boarding house is the prostitute Fräulein Kost (Gayle Rankin), who does business with visiting sailors. When Schneider catches her at it and warns her, Kost gets revenge by telling Ludwig that Schultz is a Jew.
A Kit Kat Klub waiter starts to sing a patriotic song that turns into the unnerving Nazi theme, Tomorrow Belongs to Me.
Can Fräulein Schneider marry a Jew. Shultz tells her, "It is not always good to settle for the lowest apple on the tree, climb a little. I will catch you." Then a brick is thrown threw his shop window. And Fräulein Schneider is singing a Nazi song.
The most stunning number shows the emcee/Cumming and an actor in a gorilla suit.
I know what you're thinking:
You wonder why I chose her
Out of all the ladies in the world.
That's just a first impression,
What good's a first impression?
If you knew her like I do
It would change your point of view.
If you could see her through my eyes,
You wouldn't wonder at all.
If you could see her through my eyes
I guarantee you would fall (like I did)
When we're in public together
I hear society moan.
But if they could see her through my eyes
Maybe they'd leave us alone.
How can I speak of her virtues?
I don't know where to begin
She's clever, she's smart, she reads music
She doesn't smoke or drink gin (like I do)
Yet, when we're walking together
They sneer if I'm holding her hand,
But if they could see her through my eyes
Maybe they'd all understand.
I understand your objection,
I grant you the problem's not small.
But if you could see her through my eyes…
She wouldn't look Jewish at all.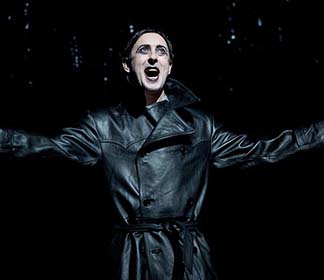 Earlier productions excised the word "Jewish." (I couldn't find a production photo for this scene; maybe it's still too controversial.)
The collapse of the personal connections in the play trails the collapse of German society. Cliff wants Sally to come with him to the U.S. She ignores what is happening around her. She'll hang onto the glamor of the Kit Kat Klub.
At the end — also not in earlier versions — the emcee pulls open his black leather coat to show a striped shirt of the kind worn by camp inmates with the yellow star for Jews and pink for homosexuals. The darker version belongs.
"Cabaret." Book by Joe Masteroff, music by John Kander, lyrics by Fred Ebb. Directed by Sam Mendes. Based on the play "I Am a Camera" by John Van Druten, based on stories by Christopher Isherwood. Studio 54, 254 West 54th Street, New York City. 212-719-1300. Opened April 24, 2014; closes end of March 2015. 9/8/14.