By Lucy Komisar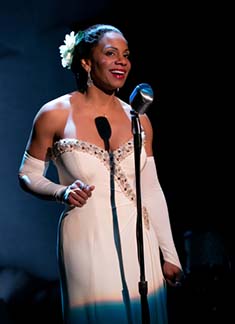 Wrapped in a white gown, an iconic white gardenia in her hair, Audra McDonald channels Billie Holiday — her voice, her accent, her manner — till you believe you are sitting in the slightly tacky Philadelphia dive where Holiday sang her last songs. "What a little moonlight can do" becomes a magical mood changer. It's helped by the dreamlike direction of Lonny Price.
One great –McDonald — sings another great, Lady Day. Her imitation is brilliant. She has mastered Holiday's accent, a slight trill, a broad vowel. Lady Day did blues with a jazz beat, following mentors Bessie Smith and Louis Armstrong.
McDonald sings Holiday's well-known songs as if they were dramas. Her phrasing in "Strange Fruit" is a distinctive intense call of pain.
The back story of her "God Bless the Child" is a parent refusing to help a child. The projection on the wall is of Arthur Herzog Jr., who wrote the song with Holiday. Herzog's father preferred his sister, who ended up with most of the family money, so the song-writer wrote, "God Bless the Child, who's got his own… [money]!" Holiday's mother also refused the generosity her needy daughter required.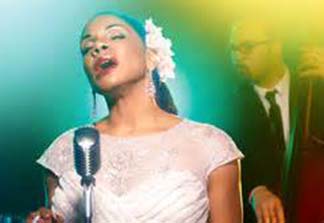 As an actress, McDonald movingly interprets the story of Lady Day – arrested on a drug charge after her lover put drugs in her suitcase. As a result, she couldn't get a cabaret card to work in New York City, which destroyed her career. The play shows her harassed by a parole officer.
The story is not only the tragic drama of one of America's greatest artists, but a commentary about America's repressive drug laws, which destroy people — black users jailed, white upper class Wall Street/Hollywood users given a pass — while more harmful cigarettes and alcohol remained legal because of the powerful corporations that market them.
Holiday would have had an appropriately dark musical comment about this happening in a country with a black president.
Lady Day at Emerson's Bar & Grill. Written by Lanie Robertson; directed by Lonny Price. Circle in the Square, 50th Street between Bway & 8th Avenue, New York City. 212-239-6200 or 800-432-7250. Opened April 13, 2014; closes Oct 5, 2014. 8/1/14.