By Lucy Komisar
"Love Letters" is a charmer, but also rather sexist. A.R. Gurney's play, which premiered in 1988, emphasizes the woman character as flaky, neurotic, self-absorbed and the man as solid, intelligent, all patience and understanding. All but perfect. You wonder why the female character is swaddled in flaws while the man has nary a one.
Mia Farrow plays Melissa Gardner, daughter of a very rich but somewhat dysfunctional family. Not much parental love from a distant divorced father and alcoholic mother.
Brian Dennehy is Andrew Makepeace Ladd III, the "III" tells you something, of a family that's also WASP and rich, though less so than the Gardners. We note the distinction that Melissa's grandmother has a butler.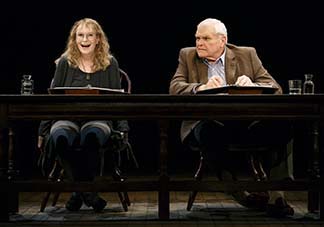 The children are in school together from second grade in 1937, separated at boys and girls boarding schools and college. From childhood to age 55, they write letters to each other, and snippets from those letters are the dialogue of the play.
They sit next to each other at a long wood table, but don't look at each other until she pierces him with her gaze at the end.
Farrow is luminous in an unforgettable performance. In rimless glasses and long curly blonde hair, she is very girlish, a real kid. Later she moves and twists her body in a pitch-perfect portrayal of a teen. A bit older, she carries on at a pool party, a little vulgar, sharp.
Dennehy doesn't sound like a kid at all. In fact, he is flat and bland, his expression doesn't change through the years. He seems nailed to his square shoulders, stiff, immovable. He raises some emotion only near the end of the 90-minute play. It's a disappointment from an actor who has done brilliant stage acting, memorably in Arthur Miller's "Death of a Salesman" in 1999 and Eugene O'Neill's "Long Day's Journey into Night" in 2003.
Director Gregory Mosher does an excellent job with Farrow but should have gotten more of a performance out of Dennehy.
Andy has always been sweet on Melissa, but she doesn't want to connect. He goes to Yale, she to Briarcliff, a rich girls' finishing school in Westchester County.
When Andy is not available for a college weekend, she writes, "Je suis désolée." Whether it's deliberate to show her poor French (a subtle choice) or just the actor or director's lack of the language, Melissa mispronounces it as désolée (s) instead of dézolée (z).
Melissa goes to Florence to express what is trivialized as a dabbler's interest in art. Andy joins the Navy. He becomes a lawyer, she an artist. She makes a bad marriage with a Wall Streeter. She drinks. She segues from painting, to pottery, to photography, a dilettante and failure at all. The back story is that she messed up her life by not accepting the love of this terrific guy. When she finally wants him, she can't get him.
He becomes a Republican politician and is pompous, boring. Maybe that goes with the territory. Except his demeanor hasn't altered since the second grade. Farrow is acting, he is not. Still, it's worth seeing the play for Farrow. What a career-topping, stunning performance she gives!
"Love Letters." Written by A.R. Gurney; directed by Gregory Mosher. Brooks Atkinson Theatre, 256 West 47th Street, New York City. (877) 250-2929. Rush and student tickets available. Opened Sept 18, 2014; closes Feb 1, 2015. This cast plays till Oct 10, 2014, others follow. 9/27/14.