By Lucy Komisar
Sept 29, 2014
Last week (Sept. 22), I went to a New York Metropolitan Museum of Art event about a new exhibit, Assyria to Iberia at the Dawn of the Classical Age.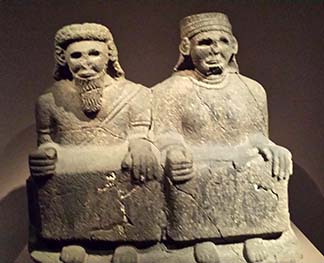 It included a talk by Secretary of State John Kerry and some speeches by art experts. A theme was the destruction that the "bad guys" have wrecked on historic art and archeological places in the Syria-Iraq region.
The speakers used slides to demonstrate the sites before attacks and after. They were not photos the art experts would have produced themselves.
I commented to a museum official who addressed the group that it seemed fortuitous that the exhibit opened at the time that this region is so much in the news. She said that of course the planning for the exhibit had started five years earlier. That is standard in a case where works of art have to be collected from dozens of international venues.
But then she said that the State Department had requested that the museum organize this evening's event. The foreign press was invited. Reporters heard speeches, saw destruction slides, enjoyed a wine reception and tour of the exhibit.
So, great, gorgeous art. But not so great for the State Department to organize an ostensibly purely cultural event to make propaganda. Plus nobody mentioned that U.S. funds and weapons, provided to sketchy groups during shifting U.S. policies, had armed the art attackers. I asked the State Dept. for one of its photos, but a week later, it had not responded.