By Lucy Komisar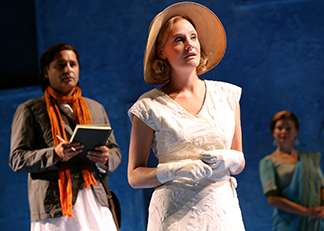 India ink may be indelible, but this Tom Stoppard play fades from memory. The 1995 work, based on a 1991 radio drama, is a confused, flat attempt to deal with the confluence of cultures in a colonial era, this one the British rule over India.
Stoppard, whose other works have made him one of my favorite playwrights, throws a lot into the mix, but the recipe doesn't work. The punny title is about as clever as it gets.
Flora Crewe (a charming Romola Garai) arrives in Jummapur, an invented hill station perhaps in Rajasthan, for a rest cure and also to talk about her poetry at the Theosophical Society. It is 1930. The province is a "native or princely state, which the British don't officially rule. But colonialism abounds.
During her stay, she will develop an undefined relationship with Nirad Das, a painter (shy, sweet in an appealing performance by Firdous Bamji), attend an evening-dress party given by some British Raj types, be pursued by a British officer, and go on a motorcar ride with the local rajah. She is 35 and sophisticated. She knows H.G. Wells.
In the background, nationalist activities, unknown to Flora or the audience, involve both the Theosophical Society and Das. You don't get a clue.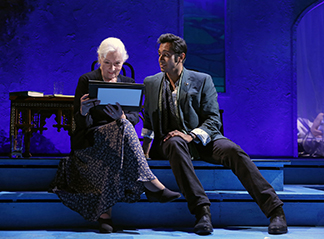 In flash forwards 50 years later, we meet Flora's younger sister Eleanor (a serviceable Rosemary Harris), Anish Das, the son of Nirad, (an unremarkable Bhavesh Patel) and Eldon Pike an academic writing a book about her, played as a fool by Neal Huff. Maybe the latter is what Stoppard thinks of academics who write about writers.
Eleanor as a young woman worked for a communist newspaper, which I suppose makes the point that this was a rather avant garde family. Flora's poetry deals with sex. She posed for Modigliani. (For some reason, the actors pronounced his name with a hard "g", Mo – dig –liYAni instead of Mo-di-liYAni. Not something that Flora, who knew him, or Pike, an intellectual, would have done.
I found it unnecessary and offensive for director Carey Perloff to show Flora/Garai in the nude to make the point that she allowed Nirad to paint her that way. There's nothing in the stage directions that say she should be shown unclothed, even behind a gauzy curtain. How unfortunate that even a female director exploits women this way.
In one of Stoppard's rare attempts at wit, Eleanor says about her sister, "Men were not really important to Flora. If they had been, they would have been fewer. She used them like batteries. When things went flat, she'd put in a new one." But there is nothing in the text or in Garai's acting that suggests that about her. Her relations with the men in the plot seem quite non-sexual, non-romantic. She doesn't even flirt.
The Indian characters Stoppard presents are contradictions.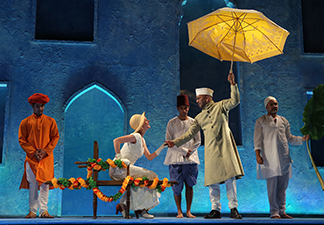 Nirad Das is such a sycophantic admirer of England that it's a bit of a surprise to us as well as Flora when he throws a mango at the Daimler of the Resident, who represents the British government; he gets six months in jail for it.
Coomaraswami (Ajay Naidu), head of the Theosophical Society, which also turns out to harbor nationalists, greets Flora effusively with garlands of marigolds and routinely screams at the lower caste servants. Such behavior might have stayed in the memory of Stoppard, a Czech, who lived in India in the early 1940s, from ages 5 to 9, with his mother and brother, escaping World War II invasions.
Perhaps a child's jumbled memories contribute to the confusion of this play.
"Indian Ink." Written by Tom Stoppard, directed by Carey Perloff. Roundabout Theatre Company, 111 West 46th Street, New York City. 212.719.1300. Opened Sept. 30, 2014; closes Nov 30, 2014. 10/2/14.