By Lucy Komisar
What better way to spend election night than with prominent politicians, Democrat Anthony I Was Hacked Weiner, Republican Mark Appalachian Trail Sanford, Republican Larry Wide Stance Craig, and Republican Mark Underage Page Foley.
In the back of my mind was the thought that some of the bozos being elected might appear in the play's second edition. Because of course, there will be more.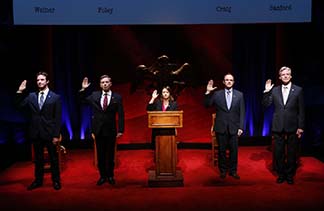 Also, the creeps were three to one Republicans over Democrats. Does this say something? Aside from a heavy leverage of the right-wing on hypocrisy? You decide.
The cleverness  of Mario Correa's play, directed by Dan Knechtges, is that all the dialogue was actually spoken by the sleazy members of Congress who are portrayed.
So you have Larry Craig (Sean Dugan) publicly waxing romantic about his wife and then trying to pick up a guy in a Minneapolis airport bathroom. Alas, the mark turns out to be a plain clothes cop (Arnie Burton). Craig, who declares "I am not gay," is charged with lewd conduct. It's really funny: He stuck his foot under the stall and hit the cop's foot. Then he introduced his hand under the stall, palm up, fingers twitching. That apparently means something.
You wouldn't care, except that Craig had attacked Bill Clinton over the Lewinsky saga for being a "bad naughty boy." He didn't resign, but after 28 years in the House and Senate, did not run again.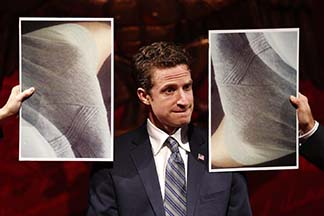 My favorite character was Nate Smith as Anthony Weiner, mostly because he wasn't pretentious. Remember he's the guy who ran raunchy online conversations and sent a photo of his bulging crotch to a lucky recipient.
He starts flirting with "Lisa in Las Vegas" via the internet and then segues into the lewd. Phew! Sean Hannity of Fox News interviews Meagan about his porno emails. Gloria Allred (Arnie Burton), the lawyer known for taking women's rights  cases, represents Ginger Lee, a stripper. Weiner tells Wolf Blitzer on CNN that he was hacked. Liar! He resigned.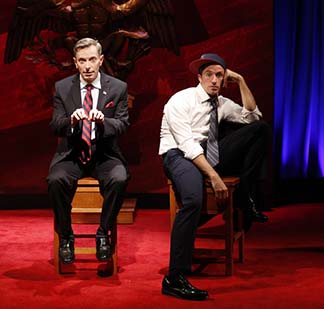 Back to the other side of the aisle, Mark Foley (Arnie Burton) hits on congressional pages. The actor goes to a young guy in the front row and rubs his leg. "How's my favorite young stud doing?' Yuck. Turns out Foley took out a "Miss Germany" as a beard.
Burton is very funny. Hannity on Fox asks him ˜how you compartmentalize being on the committee for exploited children and doing this with under age…." He had attacked Bill Clinton for sexual addiction! He resigned.
So now another heterosexual, since the guys in the show alternate. Gov. Mark Sanford of South Carolina was big on Christian values. (He  voted for the impeachment of Bill Clinton over Monica Lewinsky.) His love letter to Belen (not his wife) does not use gross language. But his behavior is still  weird. As his wife, Jenny (Rachel Dratch, who plays the female parts), says in disbelief, when he asks for permission to go to Argentina to see the lady, "Who gives permission to their spouse to see their lover!" She at least had a sense of humor.
So we have a bunch of Republican hypocrites who attacked Bill Clinton for "straying" while doing the same or worse. And the tacky Weiner, in a class by himself.
However, my favorite character is Dratch's excellent Barbara Walters, who shows herself to be a jerk. But I knew that from decades ago when she enthused about going to the thousand-year celebration of Iran by the Shah, best known as a torturer of dissidents.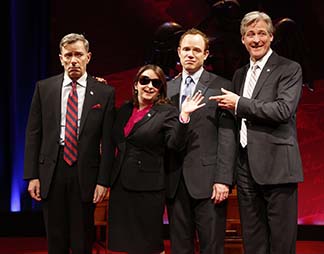 I loved Dratch's great wide eyes. Walters notes that for one birthday Sanford gave Jenny a used bike. "Another time he gave you a diamond necklace which you loved and then he took it back."
BTW, Sanford voted for impeachment of Bill Clinton over Monica Lewinsky. After lying about the Argentine lady affair, he was censured by the South Carolina legislature.
But  the unbelievably stupid Walters asks Sanford's wife," Jenny, what do you think this woman gave to your husband that you didn't? I mean, do you blame yourself at all? What!!! Walters is as ridiculous as the congressmen!
Sanford had said, The issue of lying is probably the biggest harm…to the system of Democratic government…because it undermines trust. And if you undermine trust in our system,  you undermine everything. Indeed. But the right-wing Koch brothers are active in South Carolina. And this year, some of the state's  Koch-brain-zapped  voters elected Sanford to Congress by 54 to 45 percent against  Elizabeth Colbert Busch, who had raised his lying affair as an issue.
You can't make this stuff up!! Is this a new genre, plays based on the idiot things said by members of Congress? (Let's add the administration.) At any rate, here is the first one. Think of it as a good sick joke. Except, alas, the joke is on us.
"Tail! Spin!" Created by Mario Correa; directed by Dan Knechtges. Lynn Redgrave Theater, 45 Bleecker Street (at Lafayette Street), New York City. 866-811-4111.  Opened Oct 1, 2014; closes Feb 1, 2015. 11/30/14.