By Lucy Komisar
A major  problem with this production of  British playwright Tom Stoppard's  play about infidelity is that the unfaithful pair don't seem very hot, at least not with each other.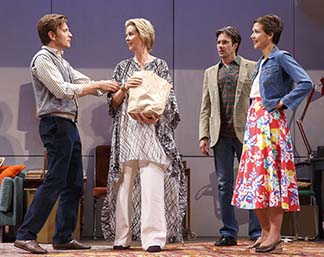 Annie, an actress (Maggie Gyllenhaal), is married to Max, an actor (Josh Hamilton). Henry, a playwright (Ewen McGregor), is married to Charlotte, an actress (Cynthia Nixon). Henry is obviously a stand-in for Stoppard.
Max/Hamilton and Charlotte/Nixon are both rather bland. Lots of talk and no sparks. Nixon is cool, hard-faced, flat. But then, so are Annie/Gyllenhaal and Henry/McGregor when they get together. Gyllenhaal as Annie is hot, but she makes no connection to her paramour.
So, everything has to depend on Tom Stoppard's 30+-year-old script, first performed in 1982. Feminism had already crashed the scene, but it's hard to see an acknowledgment in Stoppard's text.
Henry writes plays in which Max and Charlotte appear. We assume this happened in Stoppard's group. Annie gets romantically involved with Henry. We don't know why she ditches Max, a likeable guy. Unless Henry is more exciting. Or better for her career.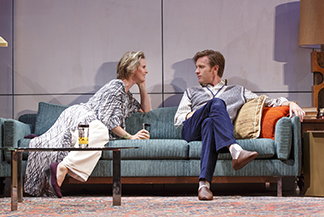 There's plenty of Stoppard's cleverness, boxes within boxes or stories within stories, including an opening of a scene in A PLAY that you think is a scene in THE PLAY. Then the open play husband's suspicious rifling of wife's drawers is repeated in a real husband's rifling of wife's drawers. And, the greater symbolism, a real house of cards in A PLAY collapses.
There's a bit of confusion when Charlotte, apparently fleeing the husband of A PLAY enters the apartment where Henry is present and he answers the phone to tell Max that "she is here." But this is a red herring. In A PLAY she goes to a lover playwright, but in THE PLAY, the one we are really watching, he turns out to be her husband. Got it? Fourth wall? This play has a fourth stage. Director Sam Gold pulls off the diversions very well.
We learn that Henry likes pop music, not the classy stuff, an apparent Stoppard put-down of London intellectuals of the time.
Hard to figure out who does the seduction when Annie tells Henry, "Touch me." They are in the apartment he shares with Charlotte, who is conveniently in the other room. Henry, "It'll get better. Maybe we'll get found out."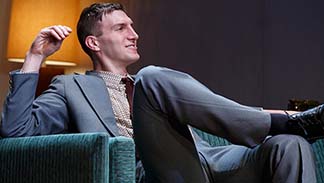 Back to the politics: Liberals in London, what an easy target. Annie has become the public supporter of Brodie (Alex Breaux), who has been jailed because he set fire to wreath at a war memorial. He wasn't really a war critic, he just happened to be passing the site and it seemed like a good idea. (Is this a straw man attack on the peace movement?)
Henry attacks Brodie's language, ie. syntax.
The women seem to be interchangeable, as Annie, who now lives with Henry, appears wearing the burgundy silk paisley bathrobe that Charlotte wore.
Annie is reading the part of Strindberg's "Miss Julie" and is annoyed that Henry isn't jealous of actor she appears with. Women are quite impossible, aren't they?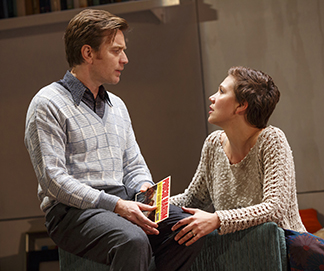 Two years later, Annie wants to put on Brodie's play. Henry reads it and declares, Brodie "can burn things down, but he can't write." He declares that the play is "half as long as Das Kapital and only twice as funny." Another dig at Hampstead leftists.
Stoppard draws Annie as a bit ridiculous, a bit of a pain, so you have to sympathize with Henry and wonder what he sees in her.
But not when he phones a hotel where she is out of town. You see, they all check up on each other. Dignified cuckolding is a difficult thing in modern marriage. She has an affair, but wants him to accept it.
I'm rather dismissive of Henry's assertion that he is a romantic. Of course he defines love as self-knowledge, not in relation to somebody else. You get the feeling they all get what they deserve.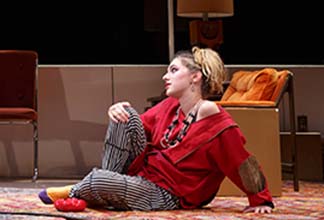 The best actor is the play is Madeline Weinstein as Debbie, the daughter of Henry and Charlotte. The kid is a charmer, terrific. She channels the late teens. She is the only one of the bunch I'd want to see again.
Another complaint: director Gold's blocking. Sitting on stage right in the orchestra, but near a middle aisle, I often could not see the face of an actor sitting in a chair stage right and looking straight ahead at another actor rather than angled so his face could be seen by the audience. Side views are briefly okay, but not for extended dialogue.
"The Real Thing." Written by Tom Stoppard; directed by Sam Gold. Roundabout Theatre Company, 227 West 42nd Street, New York City. 212-719-1300. Opened Oct 30, 2014; closes Jan 4, 2015. 11/15/14.