By Lucy Komisar
Between the rock and roll of the sixties and the disco of late seventies stood the golden age of the great singer-song writer.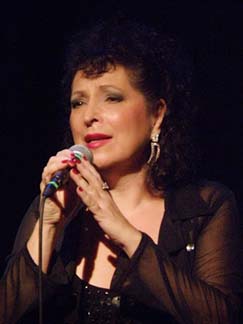 Urban Stages, in its sixth season of December cabaret, this year presented twelve days of performances that ranged from the songs of Stephen Sondheim to a tribune to Big Crosby. The performers were major cabaret artists.
One event was a "Salute to Singer/Songwriters of the Seventies" curated by cabaret critic Stephen Hanks. The writers were Carole King, Paul Simon, Joni Mitchell, Stevie Wonder, Carly Simon and Elton John.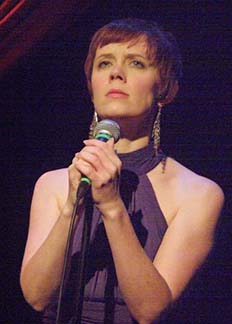 Each artist brought her special flair to the songs, showing how different a writer's work can sound depending on the interpreter. Laurie Krauz, with her middle range modulated voice, turned King's "Will You Still Love Me Tomorrow" into a drama. When her voice soars, it is thrilling. Lauren Fox, dressed as a barefoot flower child, gave her "Sweet Season" a country mood.
And Carole J. Bufford took over the stage with "You made me feel like a natural woman." A bit of twang entered the rich bluesy inflection. Bufford's performance in this and other songs made it clear that this young woman, who has made a name for herself in recent years, is bound for great things. You will hear about her.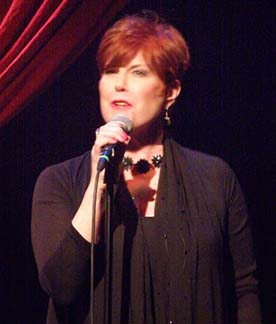 Barbara Porteus proved a fine dramatic story-teller in Paul Simon's "Still Crazy After All These Years." Meg Flather was a charmer, exuding style and spirit in "Kodacrome." Natalie Douglas added a swinging sound of soul to "American Tune."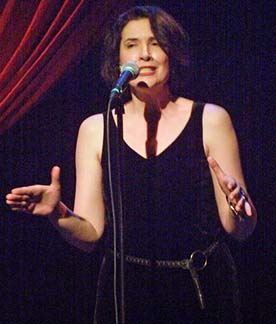 Bare-midriffed Lauren Fox was just right for Joni Mitchell's "Furry Sings The Blues" about a dying Beale Street. Barbara Porteus called forth  a  torch singer in "All I Want." Meg Flather had a country sound that pulled us into the scenery "In France."
Carole Bufford's rendition of Stevie Wonder's "Higher Ground" was a strong, jazzy interpretation about how the "powers keep on lyin' while soldiers keep on dyin'." I liked Laurie Krauz's dusky voice in the bluesy dramatic "All in Love is Fair." And then Barbara Porteus's jazzy rhythmic "Superstition."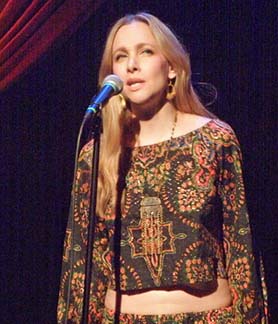 There came a different mood with Carly Simon's songs. Natalie Douglas did "That's the way I always heard it should be,' with the words you know: "You want to marry me." Douglas' voice climbs and circles us as she expresses the fears of a woman who is not sure that marriage won't leave her in a strait jacket.
A more hopeful sensibility was found in Meg Flather's bell voice rendition of loving you's "The Right Thing to Do."
I loved the terrific jazzy country duet that Laurie Krauz did with pianist Jon Weber of Simon's "Mockingbird."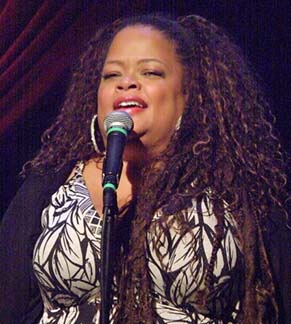 The last writer was Elton John who didn't write his own lyrics but teamed with Bernie Taplin. His country temperament was made for Lauren Fox in a moody rendition of "Tiny Dancer," telling a seamstress for the band that "you married a music man." She gives us the feeling that didn't quite turn out.
Bufford came back with "Goodbye Yellow Brick Road," an ironic piece about a road" where the dogs of society howl," in which this terrific story-teller declares, "You can't plant me in your penthouse, I'm going back to my plow."
Natalie Douglas took us to a jazzy brassy place in "Someone Saved My Life Tonight," about a sugarman.
The production was conceived and directed by Stephen Hanks. Musical director Jon Weber was at the piano, Skip Ward on bass guitar. Value for money, the cabaret at Urban Stages's intimate theater is the best you can get in New York. Heads up for next year the first two weeks of December.
"Winter Rhythms: Salute to Singer/Songwriters of the Seventies." Produced by Peter Napolitano. Conceived and directed by Stephen Hanks. Urban Stages,  259 West 30th Street, New York City. 212-868-4444.  Most tickets are  $25, a bit more for drink receptions. December 13, 2014. 12/14/14.