By Lucy Komisar
It's 1948, the tenth birthday of Café Society, where great jazz and cabaret in a corner of Greenwich Village clashed with the worst know-nothings of the McCarthy era. But we're over that now, so come to this musical memoir to enjoy the delicious sounds of the 30s and 40s. And recall how evil the thought police of that era were.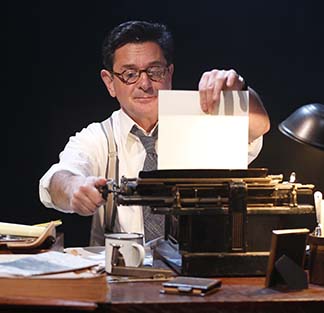 The club became a target of slimy columnists such as Dorothy Kilgallen, who called it a "Moscow-line nightclub." It was the only place that welcomed whites and blacks, certainly enough to make Mme Kilgallen call it subversive.
Indeed, Barney Josephson was a lefty. So? He put money into integrated housing. He used to joke that the Café was "the wrong place for the right people." Even Eleanor Roosevelt showed up.
A sleazy journalist played by Evan Pappas hunches over his typewriter. He figures out he will do well with his editor by writing a story of the place focusing on "commies, nightlife, lowlife. This will pay the bills." He writes, "A lefty shoe salesman wants to change the world." He starts a club, hires Negro talent: Lena Horne, Count Basie, Billie Holiday, Big Joe Turner.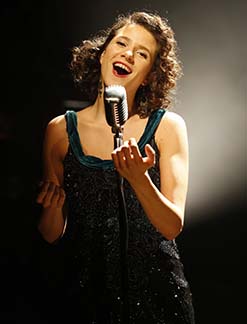 What Kilgallen and others of her breed attacked was a glorious oasis of jazz, cabaret and racial integration.
Writer Alex Webb (also the pianist and musical director) and director Simon Green have put together a charming albeit sometimes hokey pastiche of the politics and music of the times. It is set "stadium seating," not on a stage, so you have the feeling of being in the café.
The tunes are the ones we remember. "What a Little Moonlight Can Do," "Stormy Weather," "All of Me," "Where or When," "What is this Thing Called Love?" Cyrille Aimee, who is French, does some elegant turns, and some contemporary jazz of the time, such as "Hurry on Down."
Allan Harris, has a fine moody baritone doing standards of the era. He sings, "The swing is hot and the people are cool and we don't care for your Jim Crow rules."
He sings some political tunes you might not know, such as "One Meatball."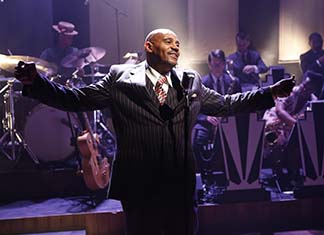 A little man walked up and down,
He found an eating place in town,
He read the menu through and through,
To see what fifteen cents could do.
One meatball, one meatball,
He could afford but one meatball.
The little man felt ill at ease,
Said, Some bread, sir, if you please.
The waiter hollered down the hall,
You gets no bread with one meatball."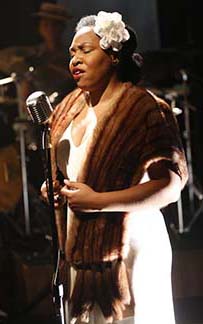 Then, there is "The Investigator's Song," by Harold Rome (Pins and Needles, Call Me Mister, Fanny, I Can Get It for You Wholesale) which Zero Mostel sang at a Madison Square Garden rally for Henry Wallace for President in 1947.
Who's gonna investigate the man who investigates the man who investigates me? I don't doubt my loyalty, but who can tell what his may be? Who'll check the records of the man who checks the records of the man who checks the records of mine?
Charenee Wade brings a colorful jazz voice to blues and gospel (Josephson brought gospel to the club), and, with her hair sporting the iconic white gardenia, she does a show-stopping appreciation of Billie Holiday singing "Strange Fruit," which Holiday first performed at Café Society.
The State Liquor Authority tries to shut the club down. Josephson perseveres. He discovers Sarah Vaughn. The press starts writing about whites and blacks dancing together at the club. And the vicious House Un-American Activities Committee (the ironically well-named HUAC) goes after the entertainers. Some get scared.
Finally, in 1949, the café's license is suspended. A dark day for New York and the country. Worth remembering now.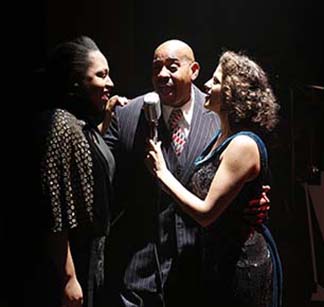 Of the eight excellent band members, three are women, the sax player, drummer and bassist. Not bad even today, Café Society is still leading the way.
Café Society Swing." Written by Alex Webb, directed by Simon Green. 59E59 Theatre, 59 East 59th Street, New York City. 212 279-4200. Opened Dec. 21, 2014; closes Jan 4, 2014.