By Lucy Komisar
Here's a remake of the classic 1944 play and more famous 1949 movie of three sailors on a weekend pass in New York who leave the ship determined to find romance. Or at least women.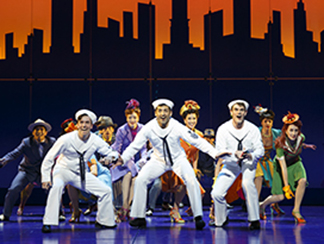 The brassy Bernstein music is wonderful, the actors are terrific, with a couple of voices a touch above what you often get on Broadway, and the staging is fine, if unexceptional, but hey, this is New York, where, as Chip says,
"The famous places to visit are so many,
or so the guidebooks say.
I promised daddy I wouldn't miss on any,
and we have just one day.
Gotta see the whole town
right from Yonkers on down to the bay…"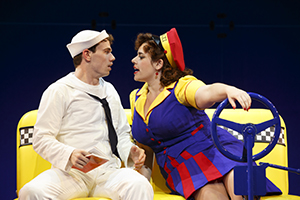 So, glorious fun. I just wonder why director John Rando had to sex up the Betty Comden and Adolph Green script so that the sailors with a 24-hour pass and interest in finding dates have to do vulgar pelvic gyrations every time they think about women. It sets a tone for the show where the women are mostly either ridiculous weird old ladies or young nymphomaniacs or otherwise ditsy.
Yes, the guys were looking for gals, but back in the ˜40s versions, everyone was a lot more normal. And tasteful.
That said, Hildy the cab driver (Alysha Umphress) and Claire the anthropologist (Elizabeth Stanley) are a lot more interesting than the guys they hook up with, Chip (Jay Armstrong Johnson) and Ozzie (Clyde Alves).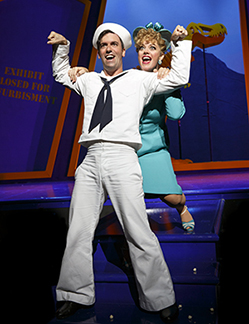 And there's a moment of beauty contest satire when Ivy (Megan Fairchild), Miss Turnstyles, gets her tiara snatched away at the end of the award month. Hey, you are gorgeous, but your chariot is now a pumpkin!
I liked the aggressive women. Umphress/Hildy, with a big Brooklyn accent, is a terrific comic. "I can cook too," a little zaftig, with a great jazzy swinging voice. One number ends with skat. You don't have to be thin to be sexy. Chip is terrified of her. Why, because she is a woman with a sense of herself?
Claire de Lune, an anthropologist writing a study of modern men, is a bit of a nympho: "I try hard to stay controlled, but I get carried away." Stanley has a smashing lovely soprano.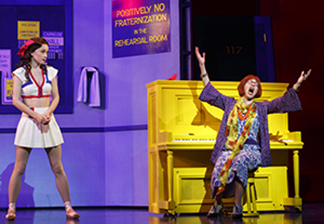 And Gabey (Tony Yazbeck), a charmer, paired with dancer Ivy, has a very fine baritone. However, the ballet scenes between them are out of place, too much Balanchine, not enough Jerome Robbins, the original choreographer. A fantasy Coney Island scene with women in white gowns and men in tails morphing into a boxing ring is rather silly.
Jackie Hoffman is pretty funny as Mme Dilly, the singing teacher. So is Claire's fiancé, Judge Bridgework Pitkin (Michael Rupert). They got together because she was arrested at the Frick Museum, and he suspended sentence.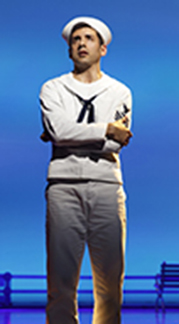 There's some fine singing, especially by Yazbeck, and a lot of good brassy New York nightclub dancing, classic   la jazzy Bernstein's "New York, New York, it's a helluva town." Can you believe that in the movie it was censored to "wonderful" town!!!
There are terrific Technicolor costumes by Jess Goldstein. All in all, lots of fun. But why did I leave the theater wondering why this production had to be so anti-woman?
"On The Town." Music by Leonard Bernstein, book & lyrics by Betty Comden and Adolph Green, based on an idea by Jerome Robbins. Directed by John Rando; choreographed by Joshua Bergasse. Lyric Theatre, 213 West 42nd St, New York City. (877) 250-2929. Opened Oct 16, 2014.